Prepared by: Miguell Ceasar & D'Asia Johnson

Edited and Curated by: Dr. T. DeWayne Moore
Collection Overview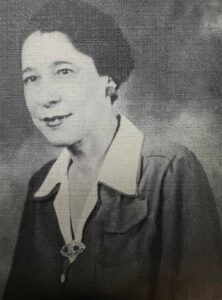 Title of Collection:  UA0033 – Anne Crittendon Preston Papers
Dates: 1936-1978
Extent: 1 linear ft. (1 box)
Abstract:
Related Collections:
Access Restrictions: This collection is open for research
Use Restrictions: Written permission must be obtained from the PVAMU Special Collections/Archives Department and all relevant rights holders before publishing quotations, excerpts, or images from any materials in this collection.
Language: English
Biographical Note: Anne Crittendon Preston was born on June 18, 1901 to John and Adele Crittendon in Petersburg, Virginia, where she received her elementary and high school education. She earned her bachelor's degree in education from Virginia State University in 1932, and she earned her master's degree in 1935 at Columbia University in New York. She was a member of Kappa Delta Pi Sorority. She also completed several courses at Temple University, the University of Denver, the University of Arizona, and the University of Minnesota. After accepting a position at PVAMU in September 1933, Preston made many worthwhile contributions to the field of teacher education. Ms. Preston worked with the Texas Department of Education on the revision of the rural school curriculum, and she also initiated the off campus Student Teaching Program as early as 1938. By 1947, she had established twenty-five teacher training centers in Texas. She designed and implemented the standard curriculum for training elementary school teachers in 1960s, and she also founded the Preston-Prunty Chapter of the Texas Student Education Association. Ms. Preston retired from PVAMU in 1967, and she died in Hempstead on October 14, 1980. Her remains were buried in Fairfield Cemetery in Denver, Colorado.
Scope & Contents: This collection consists of student teaching evaluations, newspaper clippings, and memorandums. Folders #5, #10, #12, #16, #22, #25, #31, #35, #47, #50, #55, #57, #60 contain photographs. 
Arrangement: Arrangement consists of two series, each of which is arranged in chronological order by items within the series.
Series I               Student teaching evaluations and reports
Series II             Articles and Newspaper clippings
Administrative Information
Acquisition: This collection was donated by Anne Crittendon Preston, and Esther M. Baker edited the inventory report in 1976.
Preferred Citation: Anne Crittendon Preston Papers, Special Collections/Archives Department, John B. Coleman Library, Prairie View A&M University
Subject Terms:
Preston, Anne Crittendon (1901-1980)
African Americans — Education — Texas-Prairie View
Community leadership
Education — Texas — Prairie View
Petersburg (Va.)
Prairie View (Tex.)
Hempstead (Tex.)
Prairie View A & M University
Inventory
Series I           Student teaching evaluations and reports