Prepared by: Sheena Wilson, Dezhane Johnson, Hannah Harden & Lindsay Boknight (April 2022)

Edited & Curated by: Dr. T. DeWayne Moore (November 4, 2022)
Collection Overview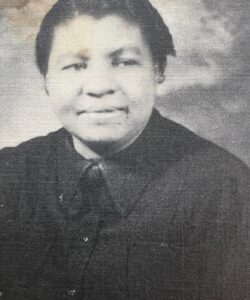 Title of Collection: Iola Winn Rowan Papers
Dates: 1932-1946
Extent: 0.5 linear feet (1 box)
Abstract:
Related Collections:
Access Restrictions: This collection is open for research.
Use Restrictions: Written permission must be obtained from the Special Collections/Archives Department and all relevant rights holders before publishing quotations, excerpts or images from any materials in this collection.
Language: English
Biographical Note: Iola Winn Rowan was one of the first professional home demonstration workers in Texas. She was the Dallas County home demonstration agent from 1927 to 1930; state supervisor of home demonstration agents from 1931 to 1946; and superintendent of the Brady State School for Delinquent Girls from 1946 to 1948. Along the way she found time to be president of the Texas Association of Colored Women's Clubs (1947-51), and in 1957 was elected vice president of the National Association of Colored Women's Clubs.
Born on October 20, 1896, to H.D. Winn and Ida M. Routt in Chappell Hill, Texas, Iola Winn Rowan graduated from high school at the Mary Allen Seminary. In 1931, she earned a bachelor of science in home economics from Prairie View College, which offered several programs for home demonstration agents, such as gardening, cooking, sanitation, disease prevention, care of livestock and poultry, and mattress making. Upon graduation, Rowan became the state's second superintendent for Black home demonstration agents, succeeding Mary Evelyn Hunter, and she organized dozens of home demonstration clubs.
In 1933, Black home economics delegates from Texas HBCUs decided to hold a convention at Dallas's Adolphus Hotel. Due to racial segregation, they were ushered through the basement to the freight elevator. Rowan and her peers refused to accept such treatment and left the premises immediately. The delegates instead convened at the home of Mrs. H. D. Winn, Iola Rowan's mother. . Even though the management of the Adolphus asked them to return to the hotel, the group decided to go home instead. This was but one of the incidents that inspired Rowan play an active role in the NAACP, the Texas Social Welfare Association, and the Dallas United Nations Association.
Under her leadership, more than 15,000 Dallas women had participated in home demonstration sessions by 1937. Rowan also completed the requirements for a master of science degree in rural sociology, but she did not write a thesis. Moreover, she went onto study at Wilberforce University and the Wiley Extension School. Her tenure at the extension service ended in 1946, but she still had much work left to do.
On October 1, 1946, Rowan became the first superintendent of the Brady State School for Delinquent Girls, and students were first admitted the following February. Even though the school had been established in 1927 by act of the 40th Texas Legislature, the necessary appropriations were not made until 1945. The 49th Legislature provided for the operation of the school, which opened in a former prisoner-of-war camp about two miles east of Brady, in McCullough County. It opened with a staff consisting of superintendent Rowan, a secretary, three housemothers, a graduate nurse, and an assistant. After getting the school on solid ground, Rowan stepped down as superintendent in June 1948.
Rowan died on April 23, 1968, and she was buried in Woodlawn Cemetery in Dallas, Texas.
Scope & Contents: The Iola Rowan Papers contain the papers which document her activities as home demonstration agent in Texas from 1932 to 1946. Includes some letters related to women's clubs and Agricultural extension services.
Arrangement: We arranged this collection in two series by function and format as well as chronologically by date.
Series 1              Correspondence, 1932-1946
Series 2              Booklets
Administrative Information
Acquisition:
Preferred Citation: Iola Winn Rowan Papers, UA0020, Special Collections/Archives Department, John B. Coleman Library, Prairie View A&M University
Subject Terms:
Agricultural extension work—Texas
Texas Federation of Colored Women's Clubs
Prairie View University. Agricultural Extension Service
Negro Extension Work
Texas Better Homes in America Committee
Giddings (Tex.)
Rowan, Iola Winn (1896-1968)
Inventory
Series 1             Correspondence
Contains typed and handwritten correspondence related documenting the daily work activities of home demonstration agents in Texas, agricultural extension services including the Texas Federation of Women's Clubs and the Better homes program.
Box       Folder
Correspondence, December, 1932
Correspondence, January–May, 1933
Correspondence, June – December, 1933
Correspondence, January, 1934
Correspondence, February, 1934
Correspondence, March, 1934
Correspondence, April, 1934
Correspondence, May, 1934
Correspondence, June, 1934
Correspondence, July, 1934
Correspondence, August, 1934
Correspondence, September, 1934
Correspondence, October, 1934
Correspondence, November, 1934
Correspondence, December, 1934
Correspondence, November, 1935
Correspondence, April, 1937
Correspondence, June, 1938
Correspondence, January, 1939
Correspondence, May 30, 1940
Correspondence, February-March, 1943
Correspondence, May 10, 1943
Correspondence, June-July, 1943
Correspondence, August, 1943
Correspondence, October, 1943
Correspondence, November, 1943
Correspondence, December, 1943
Correspondence, January-February, 1944
Correspondence, March, 1944
Correspondence, April, 1944
Correspondence, April, 1943
Correspondence, May, 1944
Correspondence, June, 1944
Correspondence, July, 1944
Correspondence, August, 1944
Correspondence, September, 1944
Correspondence, October, 1944
Correspondence, November, 1944
Correspondence, December, 1944
Correspondence, January-February, 1945
Correspondence, March, 1945
Correspondence, April, 1945
Correspondence, June, 1945
Correspondence, September-November, 1945
Correspondence, December, 1945
Correspondence, March, 1945
Correspondence, April-July, 1946
Correspondence, September-November, 1946
Series 2             Booklet
Bedding Manual for Professionals, May 4, 1941