Prepared by: Miguell Ceasar (September 24, 2021)

Edited & Curated by: Dr. T. DeWayne Moore (November 4, 2022)
Collection Overview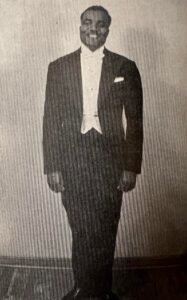 Title of Collection: UA0001 – Edison Holmes Anderson Papers
Dates: 1953-1977
Abstract:
Related Collections: 
Access Restrictions: Collection is open for research
Use Restrictions:  Written permission must be obtained from the Special Collections/ Archives Department and all relevant rights holders before publishing quotations, excerpts or images from any materials in this collection.
Language: English
Biographical Note: Edison Holmes Anderson Sr. was a lyric tenor, conductor, and teacher who toured annually, performing in many major cities throughout the United States, Mexico, and Canada. He taught almost eighteen years at PVAMU, and he directed the renowned Prairie View A Cappella Concert Choir.
Born on October 3, 1916 in Terrell, Texas, he graduated from Burnett High School. After graduating from PVAMU in 1938, he accepted a position at Grand Central Junior High School in Kaufman Texas, where he served as principal from 1938 to 1940. In 1941, he became the director of music at Arkansas State College, and he met and married Gloria C. Edwards. The couple had three children, Edison Jr., Clementine, and Samuel Edward.
Anderson also served in the military during World War II, and it provided him the opportunity to perform in Europe. When time permitted, he conducted volunteer choral groups composed of military men. In one source, "A Panorama On The Rhine," Anderson explained:
I raised the index finger which I used as a baton, and could see in their faces, that something which exemplified sincerity and temerity… The men sang well. Not full of the super harmonies of the seventh, ninth, even thirteenth chords that I like to hear and work with…but simple, sincere and meaningful. That's what made it good.
He received master's and doctorate degrees from Iowa State University, where he studied in the Opera workhouse under the direction of Dr. Herald I. Stark. For four consecutive nights in the 1955 Summer Fine Arts Festival, Dr. Anderson performed as Don Curzio in the opera "The Marriage of Figaro."
Dr. Anderson also earned a specialist diploma in music at Columbia University in New York City. He was a soloist in the Columbia University Choir under the direction of Robert Shaw of Juilliard. While studying in New York, he also performed Braaten's Alto Rhapsody with noted singer Carol Brice under the direction of Serge Koussevitzky.
From 1945 to 1958, Dr. Anderson was Head of the Music Department at Langston University in Oklahoma, where he founded and conducted the nationally known Langston University A Cappella Singers. He was chosen several times as the conductor of the All-State Choir at the Festival of Oklahoma, which attests to his enthusiasm for working with young people.
Dr. Anderson's philosophy was to "maintain a repertoire of a variety of well-performed music which may be enjoyed by any audience–anyplace, at any time." His approach to musical performance resulted in over-whelming audience appeal. During his career, he was the recipient of many awards and citations, and his choirs were always regarded as "Ambassadors of Song," wherever they performed throughout the nation.
In 1958, he became the director of vocal-choral music at PVAMU, and he organized a vocal group consisting of students from all branches of the college, the Prairie View A Cappella Concert Choir. His vocal students and choirs performed in hundreds of cities throughout the nation, and he did numerous radios, television, and recital performances.
In 1963, the Prairie View A Cappella Concert Choir recorded its "Telstar of Song" album. In 1968, Dr. Martin Luther King, Jr. requested that Dr. Anderson and his choir perform for him while staying at the Lorraine Hotel in Memphis, Tennessee. Indeed, the Prairie View A Cappella Concert Choir was the last college choir to have had the honor of performing for Dr. King prior to his assassination. Anderson passed away on January 7, 1976, and PVAMU established a scholarship in his honor.
Scope & Contents: This collection consists mostly of concert programs arranged by dates.
Arrangement:
Series 1              Printed Materials
Sub-Series 1.1  Choir Programs
Sub-Series 1.2 Miscellaneous items (Poems and scholarship information)
Administrative Information
Acquisition: In 1977, shortly after his death, his former students, colleagues, and friends sponsored  a program to pay tribute to his memory. His wife wrote and read a poem titled, "So Many Things – I Cannot Tell Them All." Gloria Anderson present a copy of the poem, the funeral service program, newspaper clippings, and personal papers to the University Archives.
Preferred Citation: Edison Holmes Anderson Papers, Special Collections/Archives Department, John B. Coleman Library, Prairie View A&M University
Subject Terms:
Anderson, Sr., Edison Holmes (1916-1976)
Anderson, Gloria
Prairie View A Cappella Concert Choir
Langston University
Historical Black Colleges and Universities (HBCUs)
Inventory
Series 1             Printed Materials
This series consists of programs of Langston University and Prairie View University A Cappella concert choirs. They are arranged by dates. Some items in this series do not have dates. Sub-series 1.1 Choir Programs are arranged by dates and Sub-series 1.2 Miscellaneous items consist of Poems and scholarship information.
Series 1.1         Choir Programs
Box      Folder
Sub-Series 1.2 Miscellaneous items (Poems and scholarship information)