My historical awareness about the history of HBCUs has seriously expanded since I began to work on the Digital PV Panther Project. When I showed up the first day, I did not know what I had gotten myself into this semester. I was eager to work on campus, as well as learn more about the project, but I remained unclear on the scope of work. To start, I helped the University Archivist Ms. Phyllis Earles with administrative tasks, such as creating labels for time sheets and creating a document detailing kitchen etiquette to be displayed in the staff kitchen area.
Being a Kinesiology major, I have only taken a course in Texas history at PVMAU. Thus, I had little awareness of institutional history. I knew that the university was founded in 1876, but I never knew about the depth of historical collections in the PVAMU archives.
Much of my archival processing work has focused on creating inventories for the Cooperative Extension & Home Demonstration Collection, which contains images, maps, and documents dating back to the 1920s. The collection also consists of travel sheets and personal letters written by people on the campus of PVAMU and surrounding counties. Seeing the substantial size of the archives has given me a clearer picture of the scope of PVAMU history, and I now realize how much more important it is to preserve it and have it accessible to the public.
Dr. Moore also assigned me to work on the social media team with Kasedi Eason, Noah Jackson, and Malachi McMahon, and I curated content for Instagram and TikTok. One of the first videos I created and edited for our page focused on the Wilhelmina Delco Exhibit on the 4th floor of the John B. Coleman Library. Since most students have likely never visited the 4th floor of the library, this TikTok video allows them to experience a taste of the exhibition.
Dr. Moore also introduced us to a social media manager called Loomly, which  helps you curate content for multiple social media accounts at once as well as schedule to post them for weeks in advance. We use Loomly for all our social media posts on Instagram, Twitter, Facebook, and LinkedIn.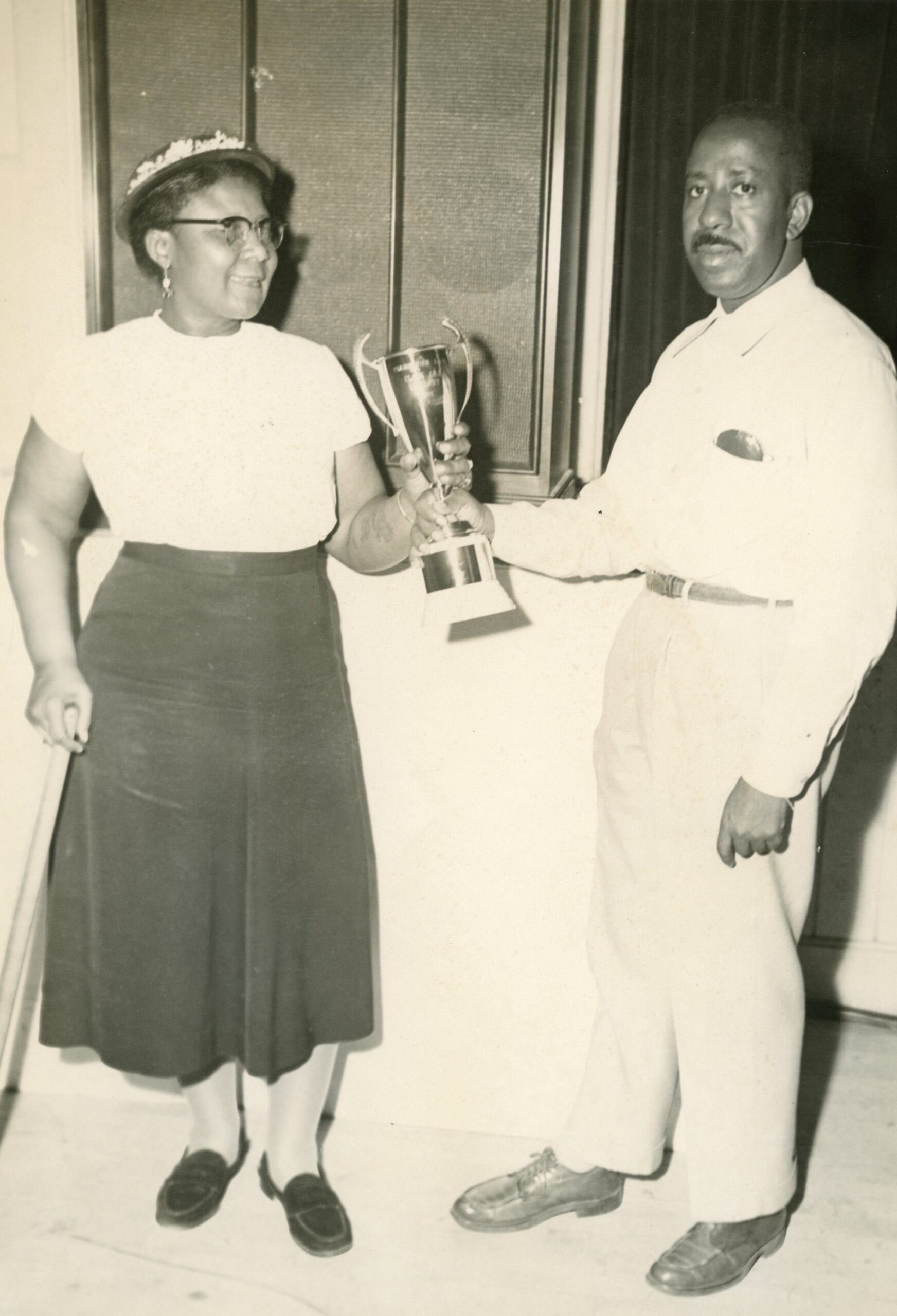 Dr. George Ruble Woolfolk delivering a much deserved reward in the 1950s
For a couple of weeks, I went through the archive boxes and created new inventory sheets as well as edited some that were done years ago. Writing a key of which boxes had pictures/maps included makes it easier in the future for finding certain documents in each one. In these boxes, many pictures are starting to deteriorate. That is why it is so important for us to be going through these documents to be able to scan them and make them digital.
Recently, I have learned how to scan Prints and Slides on the new Epson 12000XL flatbed scanner. We can now scan the historic photographs in the Tom Godwin Collection, and we have partnered with Getty Images to license them to their clients. Not only will we preserve the photographs and prevent their deterioration, but we will upload them to the Getty Images digital content management system and allow the larger PVAMU family to have access to them as well.
Overall, working on the Digital PV Panther Project has taught me so much in such little time. I cannot wait to see what comes in the future for this project and how far we can bring this information to the campus and the public. This project is exceedingly important to the university as well as the surrounding communities, and I am dedicated to ensuring that these collections are preserved for future generations.