A Tale of Two Professors at Prairie View
By Lindsay Boknight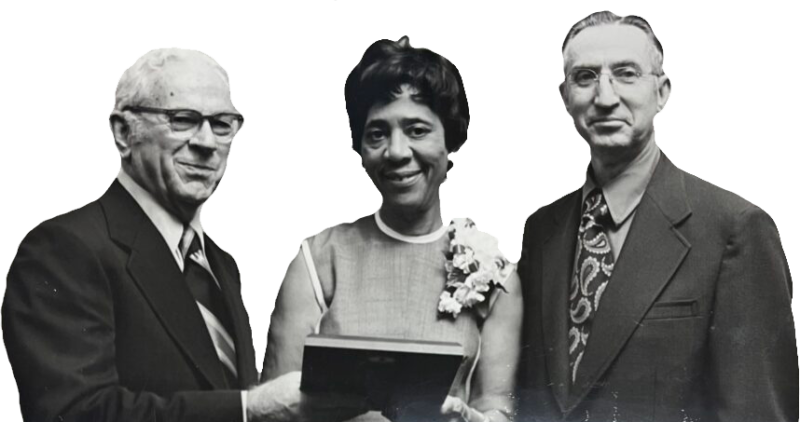 Myrtle E. Garrett receiving an award for her outstanding service in the 1960s.
In my first few weeks working on the Digital PV Panther Project, I had the opportunity to process the manuscript collections of several former professors in the PVAMU Archives. The Texas State Library & Archives Commission (TSLAC) awarded Ms. Earles and Dr. Moore almost $20,000 for their TexTreasures grant proposal, and it gave me the opportunity to learn more about the amazing careers of Myrtle E. Garrett and Oscar John Thomas. After working countless hours to build the reputation of PVAMU, the two former professors donated their research, lesson plans, and other artifacts to the university in the 1970s, but the archives never had a chance to fully process the collections, create finding aids, and make their papers available to researchers until the fall of 2022. This blog post examines the lives and legacies of two former professors and encourages researchers to visit the archives to examine the collections for themselves!
Myrtle Elwyn Garrett, the fifth of thirteen children of Jack and Cora Teel Garrett, was born April 9, 1912 in Longview, Gregg County, Texas.
She received her early education at Rollins Elementary School and was valedictorian of her graduating class at Longview Colored High School. She earned the bachelor and master of science degrees in home economics at Prairie View A&M University and pursued further studies at George Washington and Texas Tech Universities.
She taught at Rollins Elementary School for approximately 13 years, She then joined the Extension Service as county home demonstration agent in Falls County with headquarters in Marlin, where she served for three years. She was then promoted to district agent with headquarters at Prairie View A&M University where she supervised the work of home demonstration agents in 21 counties. She later transferred to Texas A&M University, where she served as program specialist until her retirement. She provided training for working with low-income homemakers and served as the head the 4-H Club for all of Texas. She was most proud of the Leadership Laboratory, which promoted leadership among youth.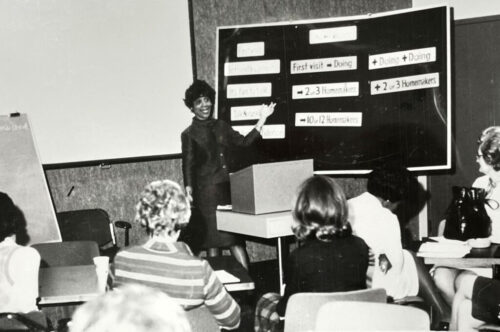 Myrtle Garrett created lesson plans for education and training programs in the Cooperative Extension & Home Demonstration Service.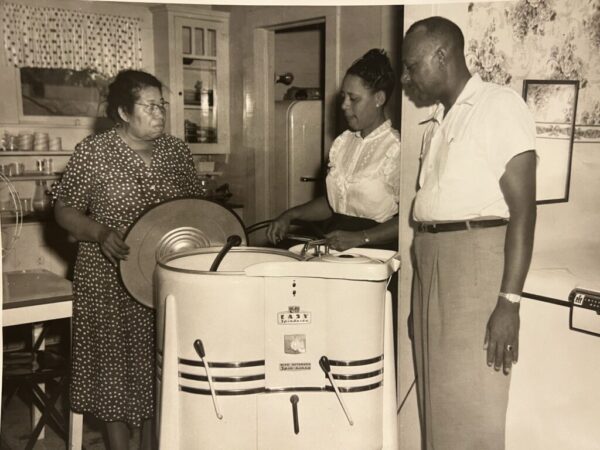 Myrtle Garrett working as part of the Home Demonstration Service
Garrett belonged to many community and professional organizations, including Delta Sigma Theta Sorority, and she received numerous awards, the most prestigious being the Distinguished Service Award. She gave to many charities and organizations, the most notable of which was an endowed scholarship to needy students attending Prairie View A&M in the amount of $50,000 in memory of her parents and aunt (Miss Hattie Garrett, second mother), who gave their support to further her education.
She attended St. Mark C.M.E. Church, and she donated pews in memory of her parents and aunt. Her services for First United Methodist, College Station, included chairman of the administrate board and fundraising.
Miss Garrett was also a world traveler. She visited Africa, Hawaii, Canada, South America, the Caribbean and six countries in Europe. 
The majority of her work focused on the negative impact of racial segregation, and she published a host of research on the subject during her career. In 1974, she was gifted an honorary "Mug Book" from Texas A & M University, which recognized her tireless efforts and accomplishments.
In December 1995, she passed away, leaving 13 nieces and nephews (her children), Dr. David L. Garrett Jr., Clemogene Wilson, Carolyn Williams, Jacquelyn L. Tims, Hattie Marie Newhouse, Garrett O. Williams Sr., Rosalind D. Tims, the Rev. Reginald Garrett, Janice E. Garrett, Cedric T. Williams Sr., Frederic S. Tims, Sharon R. Garrett and Tracey Adkins, and 20 great-nieces and nephews.
Born July 10, 1896, the second son and the fourth child of nine children born to the late Isaac and Emma Thomas of Trawick, Nacogdoches County, Texas, He spent his childhood days in the rural community in which he was born. His early training was received in the neighborhood school which was located one mile from his residence. After completing the ninth grade he passed a state examination and at the age of 17, taught a one teacher school one year.
Realizing that his education had only begun he entered Prairie View State College the following year and enrolled in the sophomore normal class. He graduated from the normal department in the spring of 1920 and completed his college work in 1927, receiving the Bachelor of Science Degree in Agriculture. His first years of experience were in one teacher schools of Nacogdoches and Shelby Counties, where he taught alternate years while attending Prairie View State Normal. In August 1920, he began work at Texas College in Tyler, Texas as teacher of General Agriculture and the Farm Manager.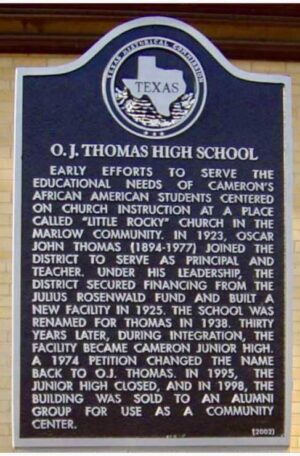 While at Texas College, he married Bessie Aleda Hardeway of Ponta, Texas. After working at Texas College for three years, he accepted the position of Principal and Teacher of Vocational Agriculture in Cameron, Texas, where he served in these two capacities and taught high school mathematics for eight years. 
After completing his eighth year at Cameron he was relieved of his work in Vocational Agriculture by another teacher. He served as principal and teacher of mathematics seven additional years. During his fourteenth year, the school was renamed in his honor as Oscar John Thomas High School.
On July 13, 1938, Thomas accepted the position of State Itinerant Teacher Trainer in Vocational Agriculture at Prairie View State College. In addition to his regular duties as Teacher Trainer, he worked as the state adviser to the Texas Association of New Farmers of America. His professional activities included service as the President of the Teachers State Association, Regional Vice President of the American Teachers Association, and First Vice President of the American Teachers Association. He also served as President of the Prairie View Alumni Association for a period of six years and as Chairman of the Executive Committee of the Texas Interscholastic League of Colored Schools.
In 1944, while studying at Prairie View State College, he conducted a study of successful practices and procedures used in the best cooperative teaching program, which evolved into his master's thesis in Agricultural Education. His research was later published as a monograph titled Suggested Principles and Practices for Cooperative Teaching with Special Reference to Vocational Agriculture.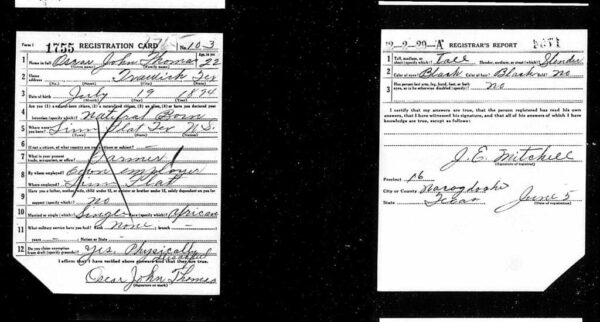 World War I Registration Card
World War I Registration Card
Like many other young scholars who attended PVAMU, Oscar John Thomas registered to fight in the First World War. One of the most popular collections in the archives, BLACKS IN THE MILITARY, focuses on the contributions of African-Americans to U.S. military history.
World War II Registration Card
At the age of 47, Oscar John Thomas registered to fight in the Second World War as well. The Double V Campaign, which sought victory against fascism abroad and victory against Jim Crow at home, was popular among African Americans who served in the 1940s.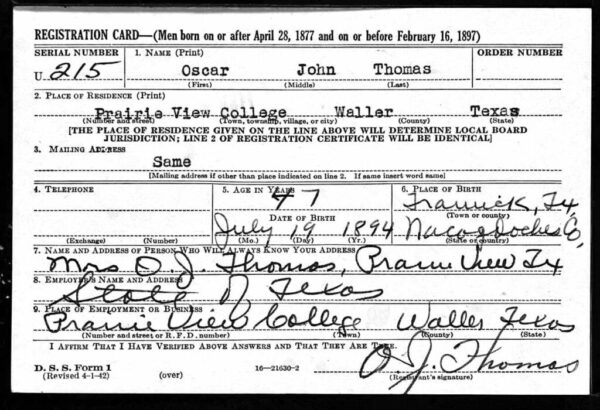 World War II Registration Card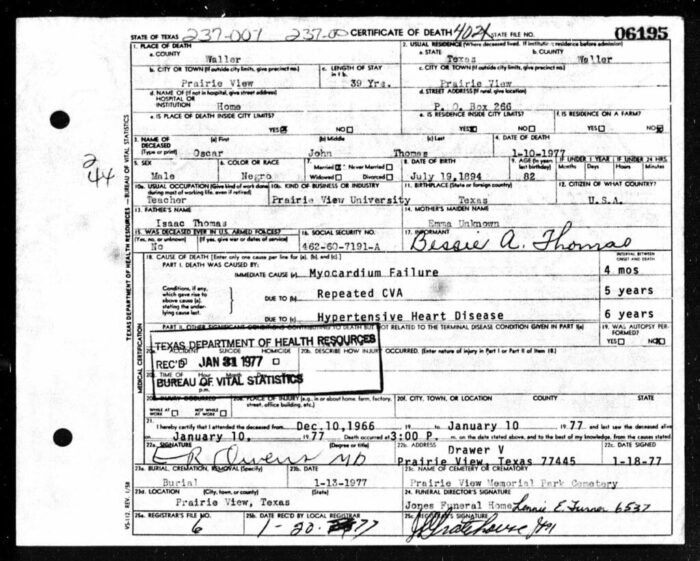 Oscar John Thomas passed away in 1977 at age 81.

He was buried in Prairie View Memorial Gardens Cemetery on the campus of PVAMU.