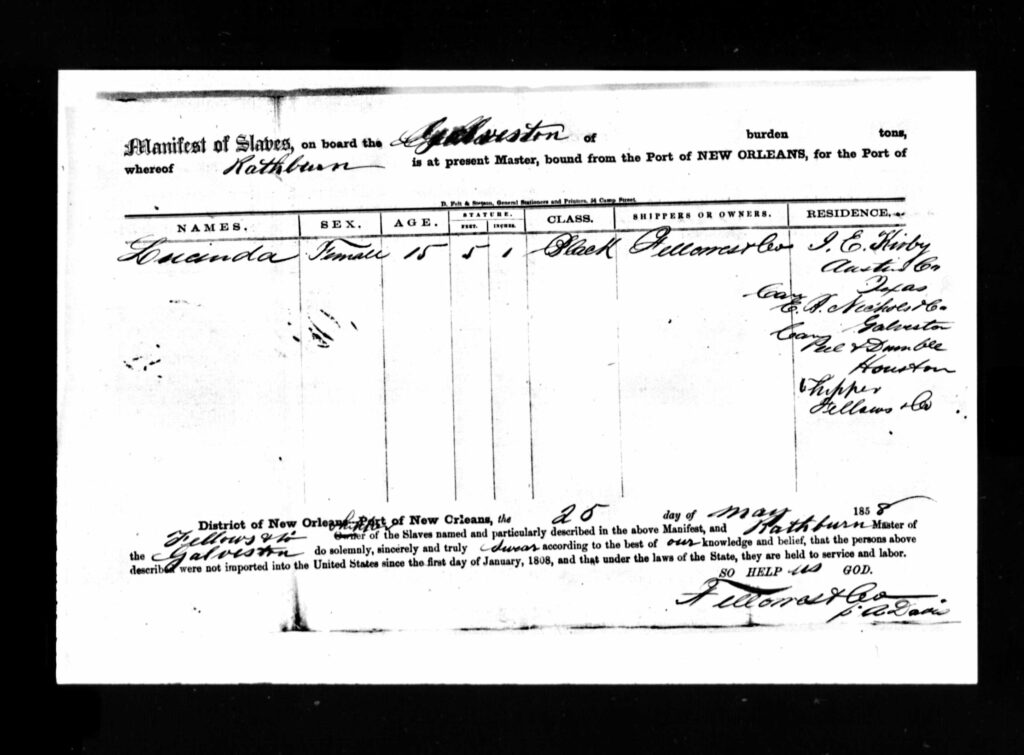 In December 2021, we searched Ancestry.com for information about Jared Ellison Kirby, and we located the name of another person who lived at Kirby's enslaved labor camp, Alta Vista. According to the manifest of the ship Galveston, Kirby had a 15 year-old girl named Lucinda transported from New Orleans to Galveston in May 1858.
We believe that Lucinda shows up as either Lucinda Edwards or Williams in the 1870 Census.
Source: The National Archives in Washington, DC; Washington, DC; Slave Manifests of Coastwise Vessels Filed at New Orleans, Louisiana, 1807-1860; Microfilm Serial: M1895; Microfilm Roll: 30.
Though an 1807 law banned the trans-Atlantic slave trade to the United States as of 1 January 1808, slaves could still be bought and sold (and transported) within the country. The same law that banned the foreign slave trade also regulated the internal transportation of slaves, requiring masters of vessels carrying slaves in coastal waters to provide a manifest detailing their slave cargo when leaving ("outward") or entering ("inward") a port. Ports of departure or intended arrival stretched from Baltimore, Maryland, to Texas on the Gulf of Mexico. Those required slave manifests, provided by ships entering or leaving from the port at New Orleans, make up the records in this database.