As I came into the Library, I walked into room 111 and greeted my co-worker, Lindsay Boknight, and Dr. Moore. We talked about how we might need more space for the Digital PV Panther Project in the future, and we might need to expand our digital and historic preservation efforts. Dr. Moore explained that the E.B Evans Animal Industries Building, which has been vacant since 2009, might be a good candidate for a historic preservation grant, and we decided to investigate the structure a bit closer. We walked over to the building, and we managed to find a door open in front. Though we wanted to examine the inside of the building, we decided not to step inside the abandoned structure due to the potential hazards, but it was a fascinating sight nonetheless.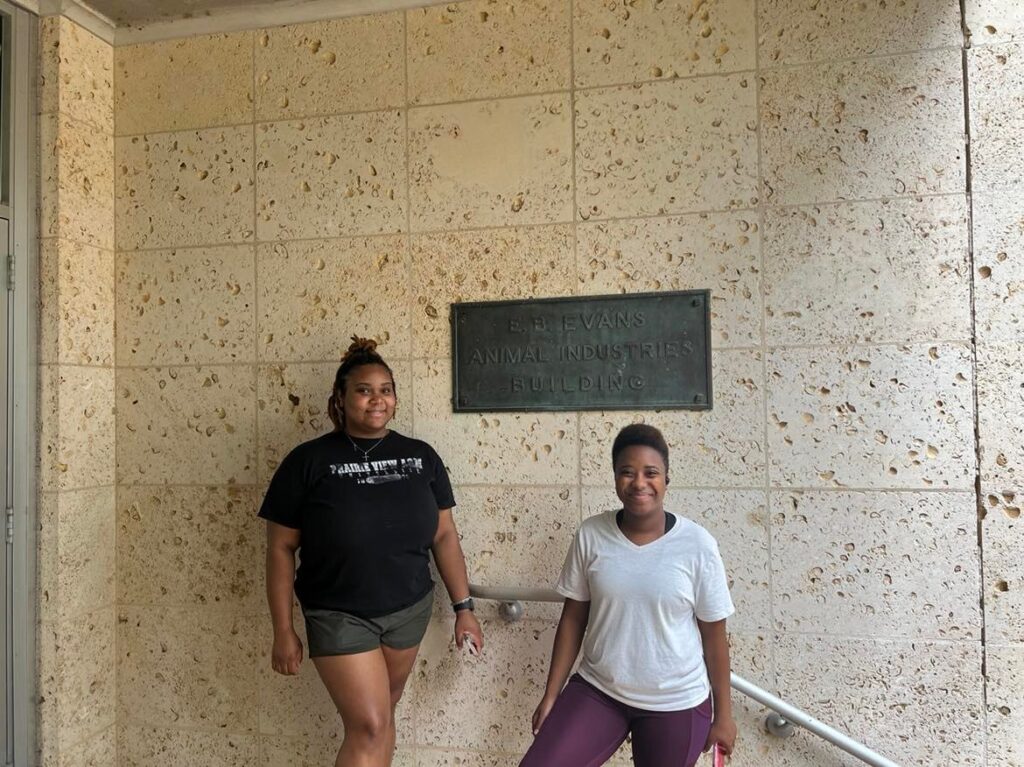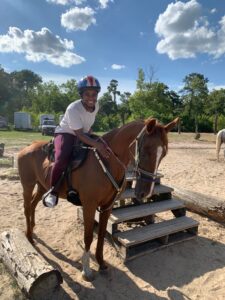 I clocked out early at 3:30 pm, and I rushed to my car. I had important plans with my best friend for my birthday. We planned to meet at a place about an hour away that offered horseback riding–an activity that coincidentally fit with my earlier tour of the Animal Industries Building. As I drove an hour to my destination, I was so excited to meet up that I had forgotten to lock the door to my apartment, but my friend called me an explained that she had locked it before she left, which was a relief. She also explained that she'd gotten lost due to the GPS trying to route her through a toll road. I calmly told her about the route I took to avoid the toll, and–after 10 minutes–she pulled up to the secluded area of the horseback riding place. Since she was running late, I had checked us both in at the counter and geared up with a fanny pack and helmet for safety. We took time to get acquainted with our 4-year-old female horse, Dancer, and we gathered with other riders so that our guides could explain the rules of riding.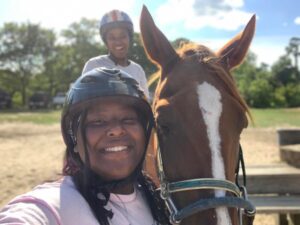 STAY at least 2 feet behind other horses and riders
KICK the side of the horse gently to move forward
PULL BACK to stop the horse
PULL LEFT to move the horse left
PULL RIGHT to move the horse right
PULL BACK to stop the horse from eating during the ride
SAY "POTTY BREAK" when your horse needs to urinate
Extra Information: Horses can defecate and walk at the same time, but they cannot urinate while carrying a rider (i.e. sitting on the animal's kidney.) If you stand up and release tension off the kidney, however, horses can urinate.
HAVE FUN
As we finished the tour, we had the pleasure of feeding horses carrots before we left, but the fun did not stop there. Since neither of us had eaten all day, we stopped by SONIC to get drinks and food before we moved on to our last activity of the day. We decided to visit Range USA in Cypress, because we both wanted to shoot our first gun. The gun range attendant was named Cragie, and he informed us that we had to be at least 21 to shoot their handguns. We were bummed out, but he also explained that we only had to be 18 to shoot their assault rifles. So we picked up an M&P15-22 Sport and 50 rounds of ammunition. Cragie provided us with ear muffs and goggles, and he also showed us how to hold and use the rifle properly.
When we walked into the gun range, it was EXTREMELY noisy. We chose a cubical with a range poster, and we loaded the clip with 15 to 20 bullets. I carefully put the gun on my shoulder, spread my legs shoulder width, turned off the safety, and put my hand on the trigger. I shot 20 times into the orange man. It was a scary and exciting experience! I looked over my shoulder at Cragie was holding a double thumbs up. With the remaining ten bullets, we split them and shot five each to end off the day. We emptied the gun, removed the clip and put the gun on safety, and packed the gun. We went to Cragie to turn in the gun, and he congratulated us on shooting the gun and invited us back on Tuesday for ladies' night for $17.
We drove home, and I tried opening the door to my apartment, but I could not get inside. My best friend had locked the bottom lock from the inside, and I was completely locked out. Thank God I had accidentally left the window to my room unlocked. I managed to remove the screen, carefully push the window open, and climb inside my room. I ran to the front door and opened it for my best friend, who was relieved to say the least. To end the night, we took our dogs out, cooked pasta with pork chops, and watched The Man From Toronto on Netflix.
Sincerely,
Zynitra Durham