This article was originally written by Erika K. Myers and published as "Hidden Treasures: Amistad II, one of the few African – American businesses in Prairie View," in the student newspaper, The Prairie View (TX) Panther, 80:3 September 18, 2002. Click HERE to read the original article in the Digital Commons.


I almost passed by Amistad II when seeking information for this article. I was used to just rolling right by it as do most of us in Prairie View.
For those of you who do not know, Amistad II is a bookstore that is located next door to PV Grocery. It was an honor and a pleasure of mine to interview Mrs. Ernestine Carreathers once I arrived at Amistad II.
Raymond and Ernestine Carreathers are originally from Denison, Texas, but they have called Prairie View home since 1967. Raymond Carreathers is a proud alumnus of PVAMU, where he joined Alpha Phi Alpha fraternity. He attended East Texas State to receive his doctorate in commerce. Dr. Carreathers taught educational administration at Prairie View A&M University, and he retired in 1987 as the Vice President of Student Affairs.
Ernestine Carreathers graduated cum laude with English as her major and French as her minor at Wiley College. She is a golden member of Alpha Kappa Alpha sorority, which she joined in 1945. She attended Southeastern Oklahoma State University in Durant to receive her master's degree.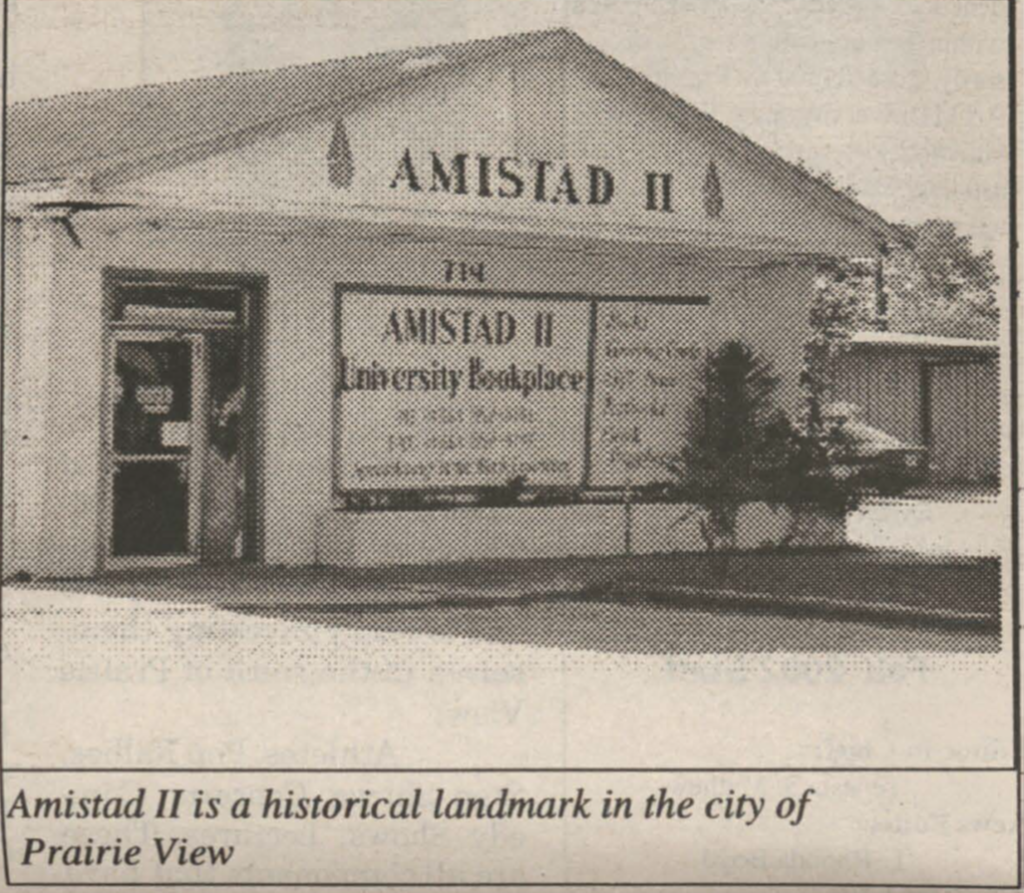 The Carreathers are proud to say that each of their three children earned a master's degree at Prairie View A&M University. Their daughter, Denise Carreathers, teaches English at Waller High School. Kevin Carreathers, their son, worked at Texas A&M University for fifteen years as Director of Multicultural Services, and he worked at the University of Memphis for six years in a similar position. The Carreathers are also proud to have a grandson who is a scout for the Houston Texans.
Presently, Mrs. Carreathers works in Amistad II and also as a supervisor for an alternative teacher certification program. Once the interview was complete, I had the opportunity to browse the store. The store is very quaint but has a comfortable and warm feeling. Amistad II offers graduate textbooks as well as administration and counseling textbooks Unfortunately they do not offer undergraduate textbooks. They do, however, offer various novels and autobiographies written about and by African American authors They offer books written by such talents as E. Lynn Harris and Carl Webber. I was pleasantly surprised to see books by E. Lynn Harris since I am trying to read the entire collection. If you are a fan, then you understand. Amistad II offers Prairie View and Greek paraphernalia. They also offer African American greeting cards.
I encourage everyone to show your support to Amistad II as well as to the many African American talents that they showcase in the store. We all need to stick together and support one another. Mrs. Carreathers informed me that their business has been sort of slow since they opened the bookstore. You do not have to go to shop for yourself. Cards and books have always been excellent gift ideas for any occasion. I am sure you all show your support to the various eateries in the area to satisfy your stomachs.
Why not support a place where you can satisfy your mind?
Indeed, Erika Myers believed that the bookstore was a historic site in the city in 2002. It might be a good idea to recognize the historical significance of this business in the annals of city history. It might be a good idea to write a historical marker nomination for the Texas Historical Commission. It might be a good idea to write nominations for numerous historic sites in Waller County. After all, the county is sorely lacking for historic markers recognizing the contributions of African Americans to the development of the county. The impact might be nothing short of revolutionary.