Digital Preservation at PVAMU
By Kasedi Eason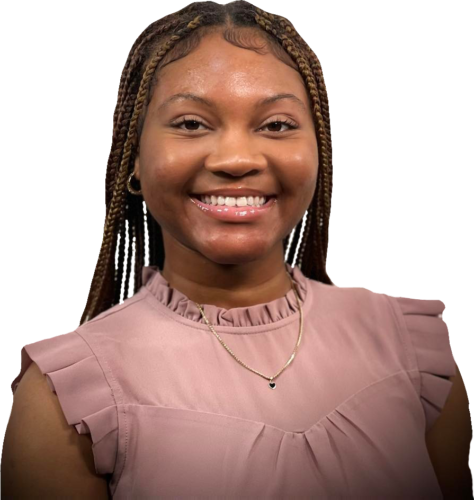 Identifying Texas Freedom Colonies
My name is Kasedi Eason, and I started working as an archival assistant on the Digital PV Panther Project in late August 2022. I document my work on the project daily, and it allows me to share with the public my experience in the archives. On August 31st, for example, I started to examine the archival media in the Cooperative Extension & Home Demonstration Collection, specifically he photographs taken by Cooperative Extension agents to demonstrate their work in the rural African American communities in Texas. The county agents worked very hard to improve the quality of life in rural communities through scientific farming and homemaking. Considering that so many of these communities no longer exist, and that the number of Black landowners significantly declined in the 1950s, this collection is especially significant because it documents the Black experience in Texas Freedom Colonies.
A future aspect of the Digital PV Panther Project will be adding data to the WebAtlas of the Texas Freedom Colonies Project–an educational and social justice initiative dedicated to supporting the preservation of Black settlement landscapes, heritage, and grassroots preservation practices through research.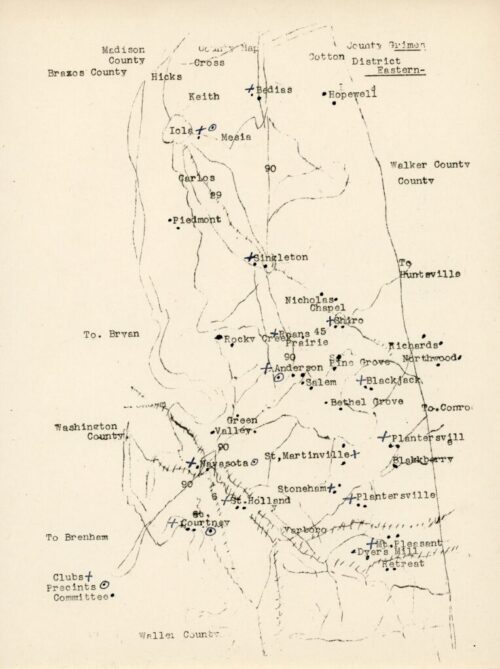 1940s Map of Texas Freedom Colonies in Grimes County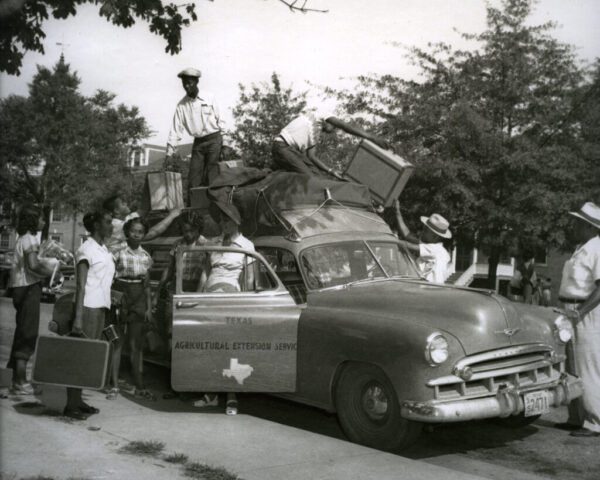 One family loading their luggage into a Cooperative Extension Service Vehicle
Meticulous data entry
The CE&HD Collection contains documents, maps, and photographs that date back to the 1920s, and the county agents wrote about all their activities–from growing crops, to raising farm animals, to constructing houses. The agents also maintained meticulous records that detailed how much money they spent on each project. 
100 years of records
I found it very interesting how the cursive handwriting was readable, and my work on the Digital PV Panther Project has instilled a better appreciation for the manuscripts in the archives. Indeed, I am grateful that these collections were preserved and not thrown away, and I look forward to making this collection available to researchers. Some of the records are over one hundred years old!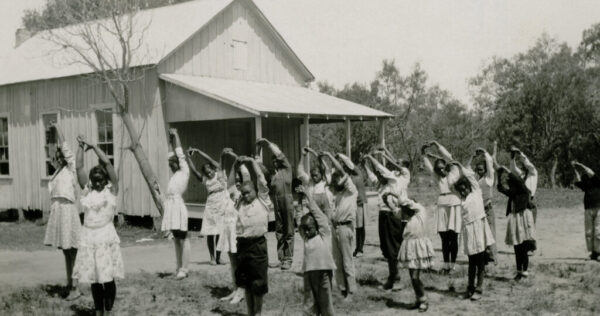 Children at Morgan School (Guadalupe County) exercising in 1933 exercises, with agent supervising
I am also proud to work on the social media team for the Digital PV Panther Project. I have created multiple TikTok videos showcasing my work as an archival assistant, and I am glad to put my skillset to work promoting the archival collections at PVAMU. For example, the TikTok video to the left demonstrates the vast amount of archival media in the CE&HD Collection. 
This project also gave the opportunity to work with some amazing scholars of African American History, specifically anthropologist Myeshia Babers–a professor of Africana Studies at Texas A&M University, who conducted interviews with several members of the team. Dr. Babers agreed to conduct interviews with archival assistants shortly after the project began, and she plans to edit the interviews for future publication online. In fact, we hope to expand the scope of our social media output by creating a Youtube channel, and we plan to publish the interviews with Dr. Babers to get us started. During my interview on September 2, I explained about my work thus far on the project, and I prognosticated about what I expect to get out of this job. It should be interesting to compare my initial interview with the interview we plan to conduct at the end of the project.
The following week, Dr. Moore organized a team meeting with University Archivist Ms. Phyllis Earles, who invited Dr. Musa Olaka, the library director, and Karl Henson, the assistant library director, to speak to us. Dr. Olaka told us about the benefits and opportunities we had working on this project, and he explained that Dr. Moore had written over $700,000 in grants to fund this project and hire students to do the work of historic preservation at PVAMU. None of our archival collections are processed, and the only real finding aids that we have are the ones that Dr. Moore wrote a grant to produce last year. Dr. Olaka told us that other students who worked for Ms. Earles and Dr. Moore had gone on to stellar careers, and his words have certainly inspired us to work harder and achieve the goals of the Digital PV Panther Project. 
At the meeting, we also talked about our progress on the project, and Dr. Moore compiled a project guidebook, which contains rules, guidelines, and instructions for various aspects of the project–from social media curation, to blogging, and the addition of media to Wordpress. One of my fellow archival assistants, Malachi McMahon, also took a moment to stress the significance of the project. His research has provided some of the most insightful and engaging blog posts to date, and it shows in his drive and determination to make positive changes in the world.
On September 27, I created a Tiktok video about the Abner Davis Memorial, which is the focus of Malachi's best blog post to date (Click HERE to read it). The memorial is located on campus in front of the George Ruble Woolfolk Building. Abner Davis was a member of the varsity football team in 1927, and he broke his neck while trying to make a tackle against Texas College on Thanksgiving Day. He passed away due to the severity of the injuries. Since he was recognized as a great example of student success at PVAMU, his classmates and teammates created several different memorials over the years to their fallen hero.
In the past couple of weeks, my work has focused on creating inventories spreadsheets for the numerous boxes in the CE&HD Collection, and I have also helped edit the finding aids of 31 former professors and administrators. We hope to complete the finding aids before October 31st. I have also developed a list of ideas for upcoming social media posts and TikTok videos.
Though I have only been an archival assistant for two months, I have gained a sincere appreciation for historic preservation during that time, and I have developed a much clearer understanding of the importance of the Digital PV Panther Project.
We plan to prevent the erasure of African American History by all means available to us, and I could not be more excited about the future!