My experience working on the Digital PV Panther Project started off on a high note. In my first week, I uncovered some long-lost elements of university history that stretch back almost two centuries on a field trip to the Austin County Courthouse archives in the town of Bellville, TX. I also tried the chicken tenders at Dairy Queen for the first time! Most importantly, however, I sparked an intense curiosity within myself about the rich history and campus geography at Prairie View A&M University (PVAMU).1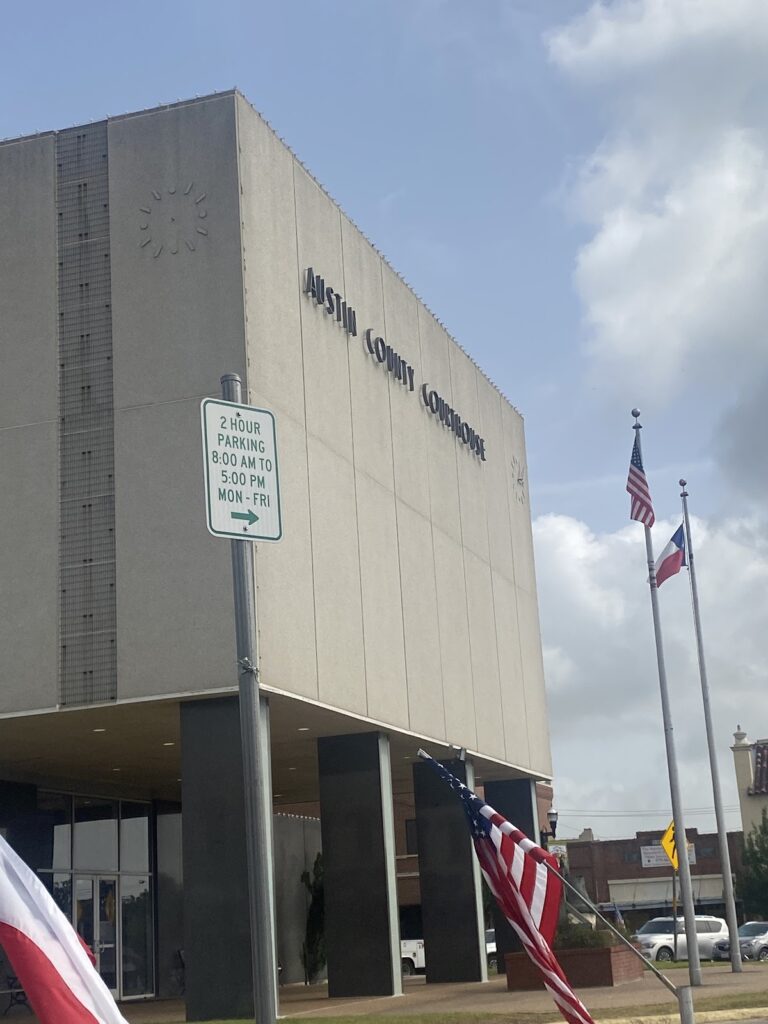 I started the week conducting research on several professors who made marvelous strides in building the prestige of our university. I searched the Digital Commons using bepress, our digital content management system, for past issues of the student newspaper, The Prairie View Panther, and I compiled scores of article excerpts into a single document to help prepare biographies for the new finding aids being created with funding from the Texas State Library & Archives Commission.
One of the professors I researched was Raymond Carreathers, who served as a guidance counselor in the College of Arts and Sciences. In the 1970s, he also served as head of resident and student life in Alexander Hall, a male freshman dorm. He was also a member of the ETA GAMMA chapter of Alpha Phi Alpha Fraternity, Inc. Moreover, he served as an advising officer to the Pan-Hellenic Council as well as the Vice-President of the Southwest Region of Alpha chapters.
The second professor on my list was Carrie B. Coss, a professor of education who joined the faculty in 1946. Formerly at Langston University, she earned bachelor's degrees from Howard University and Cincinnati University, and she received her master's degree from Columbia University in New York. Coss also served as a committee chairperson for the Alpha Mu Gamma Honors Society. Not only was she a professor of education at PVAMU, but she was also local historian who uncovered hidden histories on campus. In 1989, Coss worked with the Waller County Historical Society to document African American cemeteries, and she also served on the historical marker committee for Wyatt Chapel Community Cemetery, which sits RIGHT BEHIND campus, about a 3-minute walk from Phases 3 & 6. For more information on this committee, please see a previous blog post (Click HERE)
I also compiled lists of articles about Colquitt Dubois Yancy, Florida Yeldell, and Mrs. John C. Winfree–just to name a few, but you will have to wait until a later post or for us to finish the new finding aids in August 2022.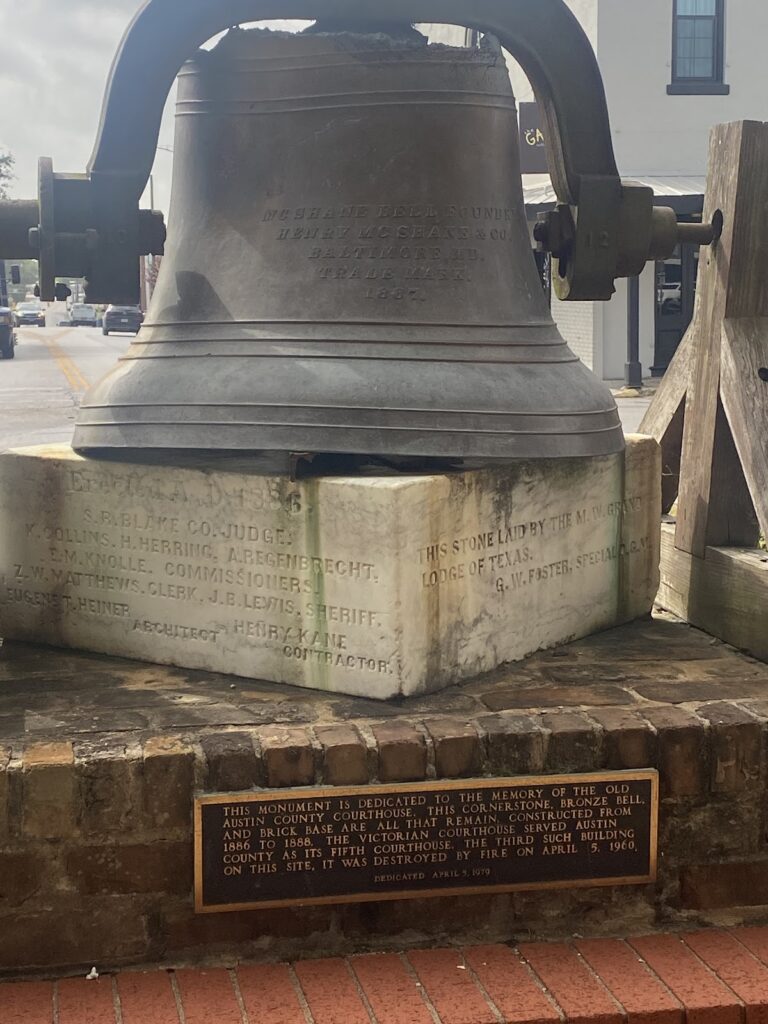 I also learned a great deal of new information about the history of PVAMU. Not only was the information new to me, but some of it is also a completely new discovery for everyone. The original name of the enslaved labor camp on which PVAMU now sits was called Alta Vista, and it was once owned by Colonel Jared Ellison Kirby. Born in Georgia in 1809, he moved to Texas and amassed a large estate, which he sought to protect through service to the Confederacy. He was shot and killed in October 1865 by a Union supporter in Galveston, Texas. His wife, Helen, acquired Alta Vista upon his death, and she sold it to the State of Texas in the mid-1870s to establish the Alta Vista Agricultural & Mechanical College for Colored Youths, which later became what we know today as PVAMU.
Everyone reading this blog post most likely knows that the state legislature decided to establish PVAMU in Waller county in 1876. You probably did not know, however, that the state legislature passed the act that established Waller County in 1873. Kirby's enslaved labor camp at Alta Vista, therefore, was located in another county prior to 1873. If I wanted to know anything about Alta Vista prior to the Civil War, I had to visit the county seat of Austin County and find documents related to Kirby and his kin. I wanted to find out what happened on our campus before it was "our" campus. So my boss, Dr. DeWayne Moore, took me to the Bellville Texas Justice Center, which had records about Kirby and many other families.
I had never been to Bellville, but it was a very interesting little town, and I posted some pictures from our visit to the city.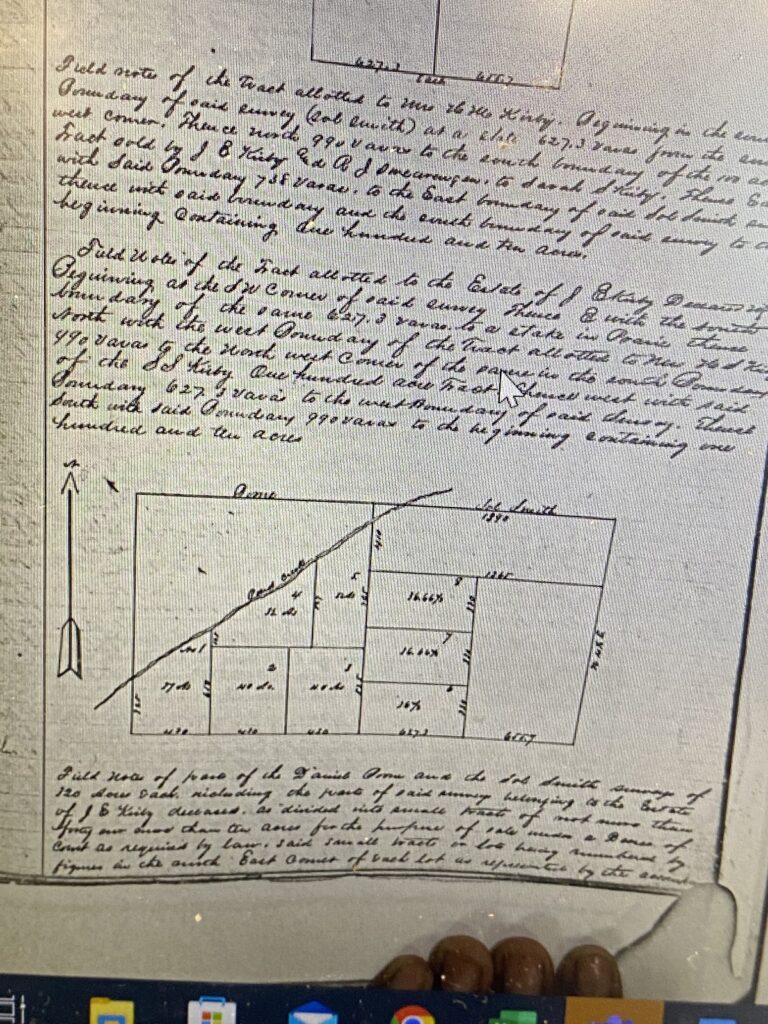 Once we got to the justice center on North Chesley Street, we found our way to the records room–a massive archive full of deed, marriage, and probate records in heavy, leather-bound books that recorded the history of Austin County all the way back to the time of the Texas Revolution. In one of those books, we located the probate record of Jared Ellison Kirby, the planter who owned the enslaved labor camp, Alta Vista, at the time of the Civil War. As I mentioned earlier, Kirby died only a few months after emancipation in October 1865, and his probate contains information about all the property he owned at the time of his death. We hope his probate will contain information about his involvement in slavery, but it will take more time to transcribe its almost 200 pages.
Please do not step on the grass!
The central purpose of our trip to Bellville was to discover our lineage. What existed on campus before it was PVAMU? Who lived on this ground before students? And what is the story of our campus before it was sold to the state to become a university? One tradition at PVAMU, which many students know before they ever set foot on campus, is never stepping on the grass. To pay respects to our enslaved ancestors who lie buried in unmarked graves, we do not step on the grass. We keep off the grass to honor our ancestors who might be buried in any plot of this hallowed ground.
We do not know the exact location of their graves, and we do not know the names of our ancestors, because slave owners did not bother to record the names of the enslaved in the US Census–only their age and gender.
In Bellville, we made one of the most significant historical discoveries in the history of PVAMU. We discovered the names of 58 individuals who once were enslaved at Alta Visa.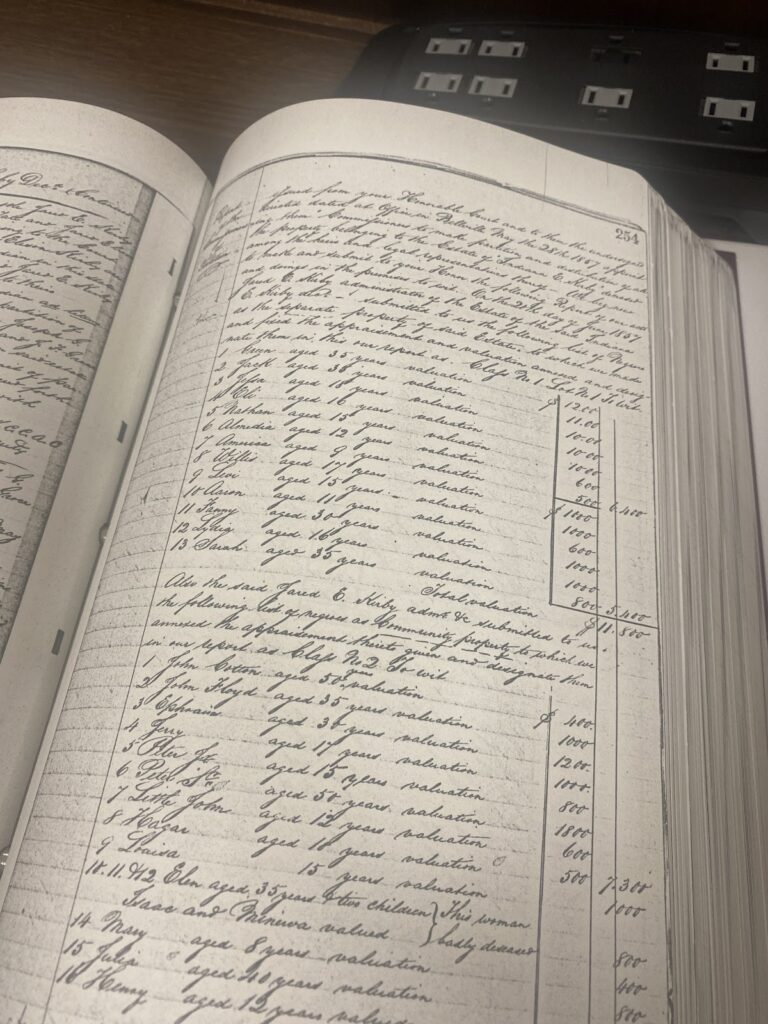 Due to the fact that the probate is written in old 1800s English cursive handwriting, you may not be able to read this, but I can list a few names for you.
"Willis 17 years old worth 1000 dollars, Levi 15 years old worth 1000 dollars, Sarah 35 years old 800 dollars and Almedia 12 years old 600 dollars."
While not in this picture, the youngest enslaved person that I've seen was a 2-year-old girl named Ellen, who was "worth" 300 dollars. This sight, honestly, was very surreal.
It is one thing to watch Hollywood movies about the Civil War, and it is one thing to learn about slavery in college history courses, but it is quite another to see the names of human property written down in a way that you would write a receipt or account balance sheet. It's quite surreal to see the listed names of Black people–BLACK CHILDREN–and how old they were and their monetary value, like a material item, we might buy or sell today.
In 1860, 40-year old Jared Ellison Kirby owned 285,000 in real estate and $175,000 in his personal estate, and he lived at Alta Vista with his 23-year old wife, Helen, his two children, 12 year old Lucy and 7 year old Jared Jr. The 73-year-old mother of Jared Kirby was named Sarah, and she owned $32,000 in real estate and $32,000 in personal property. She also lived at Alta Vista.1
The 1860 Slaves Schedules reveal that Jared Kirby owned 30 slave cabins on his property. According to an article in the Prairie View Panther, the slave cabins at Alta Vista were located where the Hobart Taylor building now sits.2 His mother owned 10 slave cabins, in which lived the 19 slaves she owned in 1860.
Jared owned 5 forty-two year old male slaves, 30 thirty-year old male slaves, 21 fifteen year old male slaves, and 15 five year old male slaves. He also owned 4 forty two year old female slaves, 17 twenty five year old female slaves, 22 fifteen year old female slaves, and 25 six year old female slaves.3
71 men, and 68 women. Total of 139 listed under Jared's name. If you add the 19 people listed under Sarah's name, that means 158 enslaved men and women lived at Alta Vista in 1860.
In total, we managed to find almost 60 names of our enslaved ancestors in the probates of Jared Kirby's family members. We were also able to find a map of the enslaved labor camp, Alta Vista, (see above image) which is only part of the campus we know today. We look forward to revealing more information from the probate records in future posts for the Digital PV Panther Project.'
Sincerely,
Kalayah Jammer
END NOTES
1860 US Census, Hempstead, Austin, Texas; Roll: M653_1287; Page: 175; Family History Library Film: 805287
Gregory Bevels, "Gone but not Forgotten ~ Reflections on Wyatt Chapel Cemetery," Prairie View (TX) Panther, October 21, 1994.
The National Archives in Washington DC; Washington DC, USA; Eighth Census of the United States 1860; Series Number: M653; Record Group: Records of the Bureau of the Census; Record Group Number: 29