Prepared by: Sheena Wilson

Edited & Curated by: Dr. T. DeWayne Moore
Collection Overview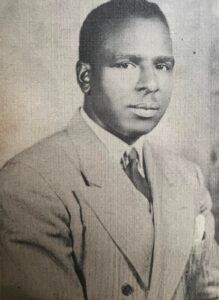 Title of Collection: UA0011 – Thomas Price Dooley Papers
Dates: 1949-1977; Inclusive Dates: 1956-1977
Extent: 0.25 linear ft. (1 box)
Abstract:
Related Collections:
Access Restrictions: Collection is open for research
Use Restrictions: Written permission must be obtained from the Special Collections/ Archives Department and all relevant rights holders before publishing quotations, excerpts, or images from any materials in this collection.
Language: English
Biographical Note: Thomas Price Dooley spent 36 of the 43 years of his professional career at PVAMU. During that time, he served as Head of the Biology Department, Head of the Science Division, and Dean of the School of Arts and Sciences. Bornin Georgia in 1904, he received his PhD in Biology at the University of Iowa on August 4, 1939, and he married in Bowie, Texas on May 30, 1941, to Eula Mae Muckleroy. They shared one child together. In 1944, he also ran the Prairie View State College Credit Union. In the 1950s, Dooley became the Dean of the School of Arts and Sciences. In the 1960s, Dooley was one of the Band's most ardent supporters. During the intermission of one concert, he gave a stirring appeal to the audience for funds. Dr. Dooley was also selected by the Texas Academy of Science as a Visiting Scientist to different high schools of Texas. Dooley also established the campus chapter of the Alpha Pi Mu Honorary Society, and he was the first African American elected as an officer in the Texas Academy of Science. In the September 12 issue of the Prairie View Panther, Dooley reflected on his career:
"I was very pleased to receive requests of reprints of my research papers from scientists in several foreign countries, but I was overjoyed when the Sigma Xi Club was finally established on our campus last year. I consider it an honor to be a current member of the Board of Directors of the Texas Academy of Science, and, of course, my selection as a Piper Professor of 1972 was both exciting and gratifying." He continued thoughtfully, "The Recognition Dinner given by the School of Arts and Sciences when I resigned as Dean will always be an important highlight for me; however, I truly believe that the most complete sense of reward for years of work comes from my former students who still call or write to say that they appreciate my contributions to their success."
Dooley passed away on January 30, 1987. He was buried on the grounds of the university he served so diligently for  most of his life in Prairie View Memorial Garden Cemetery in Prairie View, Texas.

Scope & Contents: The Thomas Price Dooley Papers document his activities as a professor, department head, and dean at PVAMU from 1949-1977. It contains correspondence related to his selection as a Piper Professor and articles on student projects and a principalship.
Arrangement: Collection is arranged in 3 series by function and format. The series are arranged chronically by date.
Series 1              Biographical Materials
Series 2              Correspondence, 1964-1968
Series 3              Printed Materials & Writings by T.P. Dooley
Administrative Information
Acquisition:  
Preferred Citation: Thomas Price Dooley Papers, Special Collections/Archives Department, John B. Coleman Library, Prairie View A&M University
Subject Terms:
Dooley, Thomas Price (1904-1987)
Piper Professor Award
Texas Academy of Science
Inventory
Series 1             Biographical Materials
Box       Folder
1                  1             Biography of T.P. Dooley
1                  2            Biography of Marquis National Biography Reference File, 1977
1                  3            Biography, American Men and Women of Science, 1977
Series 2             Correspondence
Box       Folder
1                   4            Letters to T.P. Dooley, 1964-1966
1                   5            Letters from T.P. Dooley, 1964-1968
1                   6            Letters about Piper Professor Selection
Series 3             Printed Materials and Writings by T.P. Dooley
Box       Folder
1                   7             Article, Negro Principals Hear Talk on Science Plan, October 26, 1956
1                   8            Article, Arts and Sciences Organize Student Advisory Project, October 1956
1                   9            Program, 35th Annual Conf. of Collegiate Deans and Registrars, March 13-15, 1961
1                   10          Certificate of recognition, 1962
1                   11          Program, in appreciation of Dr. T. P. Dooley Day, May 10, 1968
1                   12          Article, 1972 Piper Professor, April 7, 1972
1                   13          Tribute to Dr. Dooley on Being Selected as Piper Professor, April 20, 1972
Biography of Marquis National Biography Reference File, 1977
Biography, American Men and Women of Science, 1977
Letters to T.P. Dooley, 1964-1966
Letters from T.P. Dooley, 1964-1968
Letters about Piper Professor Selection
Printed Materials and Writings by T.P. Dooley
Article, Negro Principals Hear Talk on Science Plan, October 26, 1956
Article, Arts and Sciences Organize Student Advisory Project, October 1956
Program, 35th Annual Conf. of Collegiate Deans and Registrars, March 13-15, 1961
Certificate of recognition, 1962
Program, in appreciation of Dr. T. P. Dooley Day, May 10, 1968