Prepared by: Sheena Wilson

Edited & Curated by: Dr. T. DeWayne Moore
Collection Overview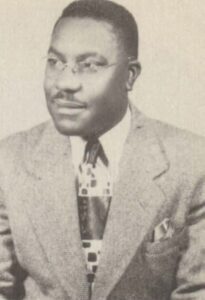 Title of Collection: UA0026 – Colquitt Dubois Yancy Papers
Dates: 1964- 1968
Extent: 2 linear feet (4 Boxes)
Abstract:
Related Collections:
Access Restrictions: Collection is open for research
Use Restrictions: Written permission must be obtained from the Special Collections/ Archives Department and all relevant rights holders before publishing quotations, excerpts, or images from any materials in this collection.
Language: English
Biographical Note: Colquitt Dubois Yancy was recognized as an outstanding principal, educational, religious, and community leader. Born on November 17, 1911, to Wesley Yancy and Dovie Bryant in Austin, Texas, he went on to attend PVAMU, where he was Junior class chaplain. A 1936 PVAMU graduate, he also held a master's degree from Colorado State and studied at Ohio State University. He served with the USDA, and as an instructor at PVAMU before he accepted a position as principal of George Washington Carver Elementary School in Bryan, Texas. He also taught Vocational Agriculture in Calvert, Texas in 1937. In early 1940, he worked at the New Summerfield Colored School in Ponta, Cherokee County, Texas. An active alumnus, he wrote articles for the PV Standard "About the Alumni and Former Students of The Division." He later went on to serve as the principal of E.A. Kemp Junior High School in 1949. Upon the retirement of Oscar John Thomas, Yancy was invited to serve as director of the Prairie View Interscholastic League, and he directed the rapidly growing department of Career Planning and Placement Services at PVAMU. He died September 28, 1968, in Prairie View, Waller County, Texas. He is buried at Houston Memorial Gardens, in Pearland, Texas. He was survived by his widow, Doris B. Yancy, a son, and a host of family and friends.
Scope & Contents: This collection documents the activities of Colquitt Dubois Yancy from 1964-1968. It consists mostly of correspondence, both typed and handwritten, related to the Prairie View Interscholastic League eligibility, redistricting, and recommendations for employment. It also includes memorandums, clippings, and announcements.
Arrangement: Arranged in two series by format. Each series is arranged chronologically by date.
Series I:             Correspondence
Series II:           Printed materials
Administrative Information
Acquisition:
Preferred Citation: Colquitt Dubois Yancy, UA0026, Special Collections/Archives Department, John B. Coleman Library, Prairie View A&M University
Subject Terms:
Yancy, Colquitt Dubois
Prairie View Interscholastic League (Tex.)
High school athletes
Inventory
Series I             Correspondence
Box    Folder
4           1           Correspondence, August 1967
4           2           Correspondence, September 1967
4           3           Correspondence, October 1967
4           4           Correspondence, November 1967
4           5           Correspondence, December 1967
4           6           Correspondence, January 1968
4           7           Correspondence, February 1968
4           8           Correspondence, March 1968
4           9           Correspondence, April 1968
4          10          Correspondence, May 1968
4          11          Correspondence, June 1968
4          12          Correspondence, July 1968
4          13          Correspondence, August 1968
4          14          Correspondence, September 1968
4          15          Correspondence, October 1968
4          16          Correspondence, November 1968
4          17          Correspondence, December 1968
4          18          Correspondence, Undated Material
4          19          Correspondence, Undated Material
4          20          Postcards and Telegrams
Series II             Printed Materials
Box       Folder
4          21       Travel Authorization and related documents
4          22      Recruitment and civil service announcements; 1966