Prepared by: Miguell Ceasar (September 25, 2021)

Edited by: Dr. T. DeWayne Moore (November 6, 2022)

Curated by: D'Asia Johnson (March 1, 2023)
Collection Overview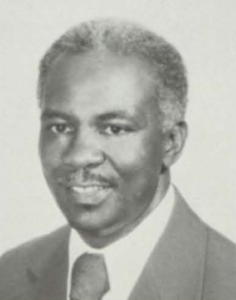 Title of Collection: Marion Henry Papers
Dates:
Extent: .75 linear ft. (1 box)
Abstract:
Related Collections:
Access Restrictions: This collection is open for research.
Use Restrictions: Written permission must be obtained from the Special Collections/ Archives Department and all relevant rights holders before publishing quotations, excerpts, or images from any materials in this collection.
Language: English
Biographical Note: Marion Henry served PVAMU in many capacities after joining the staff in 1956, including as athletic director. Born on March 23, 1927 to Dewey Henry and Mary Lee Benson in Dallas, Texas, he earned his bachelor's degree from Southern University and A&M College, and he completed his master's degree at Bradley University. He also earned a Ph.D. from Syracuse University. Among memberships in many organizations, Henry was a proud member of Omega Psi Phi Fraternity, Inc. for 62 years.
Marion Henry married Mary Delores Grant in New Orleans, Louisiana in October 1953, and he was affiliated with the PVAMU athletic department for over 46 years. In the early 1960s, he served as the athletic motion picture photographer in the filming of the school's only NAIA title game appearance against St. John's in Sacramento, California, and he also served as the public announcer and chief finish judge for track and field events. He served as athletic director from 1972 to 1983, and he twice won the honor of Southwestern Athletic Conference Athletic Director of the Year. He also served on various NCAA and SWAC committees, including the SWAC's 75th Anniversary Planning Committee in 1995. Some of his most significant accomplishments during his tenure included negotiating the current State Fair Classic with Grambling State, renovating the Blackshear Field press box and concession stand, chairing the first NCAA college football doubleheader at Rice Stadium, and organizing the first college basketball doubleheader at the Houston Summit.
Henry was also a powerful influence on the Whitlowe R. Green College of Education. He was Director of the Learning Resource Center, and head of the department of curriculum, and head of the department of educational media and technology. In 2011, he was selected as a member of the inaugural class of the Chancellor's Academy of Teacher Educators, a Texas A&M University System initiative acknowledging teaching excellence.
Indeed, his impact was felt by every student who crossed the stage at graduation. He served as Chairman of the Commencement Committee for more than 50 years, even serving as the Commencement Marshall for nearly three decades. He told 1876 magazine that one of his greatest honors was assisting with the development of the University Mace, Medallion, and Podium in 1983. In 1995, Henry was honored with a street bearing his name, Marion Henry Drive, which runs alongside the famed William "Billy" J. Nicks, Sr. Fieldhouse and leads to the football stadium, Blackshear Field. He was also inducted into the Southwestern Athletic Conference Hall-of-Fame. Marion Henry died on June 3, 2012, and he was buried in Prairie View Memorial Gardens Cemetery.
Scope & Contents: The Marion Henry Papers consist of certificates, programs, and personal biographical materials.
Arrangement: 
Series 1               Correspondence
Series 2               Printed Materials
Series 3               Personal Information and Awards
Administrative Information
Acquisition: Marion Henry donated this collection in the late 1970s.
Preferred Citation: Marion Henry Papers, Special Collections/Archives Department, John B. Coleman Library, Prairie View A&M University
Subject Terms:
Henry, Marion
Inventory