Prepared by: Miguell Ceasar (October 2, 2021)

Edited & Curated by: Dr. T. DeWayne Moore (November 8, 2022)
Collection Overview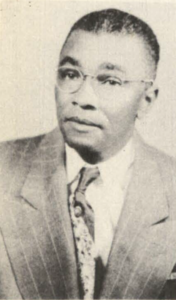 Title of Collection: UA0029 – John Ephraim Mayo Papers
Dates: 1942-1952
Extent: 1.5 Linear (1.5 boxes)
Abstract:
Related Collections:
Access Restrictions:
Use Restrictions: Written permission must be obtained from the Special Collections/Archives Department and all relevant rights holders before publishing quotations, excerpts, or images from any materials in this collection.
Language: English
Biographical Note: John Ephraim Mayo Sr. was born on May 1, 1887 to Ellen Bass and Aaron Mayo in Lavaca County, Texas, and he graduated from Prairie View College in 1912. On January 30, 1915, he married Pearl Haynes in Lavaca County, and the couple had a son, John Wesley Mayo. He taught school in the Lavaca County school system for 14 years, and he served the Cooperative Extension Service in Hallettsville for 28 years until 1952. He served as Lavaca County agent from 1924-1928, Guadalupe County from 1928-1932, and Lavaca County again from 1932-1945. He was the oldest county agent in the service at the time of his retirement in 1952. He died in 1985 at age 98, and he was buried in the City Willing Workers Cemetery in Hallettsville, Texas.
Scope & Contents: The John Ephraim Mayo Papers consist of letters and certificates pertaining to his work in the Cooperative Extension Service.
Arrangement: We arranged the collection chronologically.
Series I               Correspondence
Series II              Undated Items
Administrative Information
Acquisition:
Preferred Citation: John Ephraim Mayo Papers, UA0029, Special Collections/Archives Department, John B. Coleman Library, Prairie View A&M University
Subject Terms:
Cooperative extension, Negro District Agent, HBCU
Mayo, John Ephraim (1887-1985)
Inventory