Prepared by: Sheena Wilson, Zynitra Durham, and Hannah Harden (April 2022)
Edited & Curated by: Dr. T. DeWayne Moore (November 6, 2022)
Collection Overview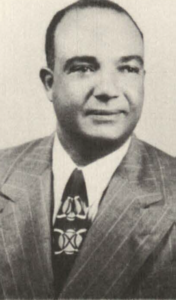 Title of Collection: UA0003 – Marshall Vernon Brown Papers
Dates: 1948-1959
Extent: 3 linear feet (6 boxes)
Abstract:
Related Collections:
Access Restrictions: This collection is open for research.
Use Restrictions: Written permission must be obtained from the Special Collections/Archives Department and all relevant rights holders before publishing quotations, excerpts or images from any materials in this collection.
Language: English
Biographical Note: Marshall Vernon Brown was born on July 29, 1905, to Effie T. and Nora Brown in Madison County, Texas. He graduated from PVAMU in 1931, and he served as the dean of men at PVAMU the following year. In the mid-1930s, he started working as a county agent for the Cooperative Extension Service soon thereafter in Waller County. In 1940, he moved to Brazoria County and worked in the same role until he enlisted in the military during World War II. In 1946, he was named state leader in agricultural extension work in Texas. He later served as a special advisor to the federal Agency for International Development and received an alumni award from the college in May 1963. On January 22, 1964, he suffered a heart attack and died in his home on the campus of PVAMU. He was survived by his wife, Libbie N. Brown, and two sons, Marshall Brown Jr. and George Brown. He was buried in Prairie View Memorial Gardens Cemetery.
Biography by Lindsay Boknight & Dr. DeWayne Moore
Scope & Contents:   The M.V. Brown Papers documents the activities of Marshall Vernon Brown from 1942 to 1959. The collection contains documents on various agricultural aspects and materials about Mount Corinth Baptist Church in Hempstead, Texas and correspondence related to cooperative extension work of Marshall Vernon Brown. It consists of home demonstration publications, correspondence, news articles, workshops, progress reports, marketing materials, questionnaires, and national studies and a financial record.
Arrangement: Collection is arranged in three series, two of which are further arranged into subseries. Series are arranged chronologically by subject and format.
Series 1              Correspondence, 1942-1959
Series 2              Cooperative Extension Work, 1948-1956
Series 1.2          Administrative Records, Training Programs & Activities
Series 2              Mount Corinth Baptist Church, 1956-1959
Series 2.1          Financial Records and Memberships, 1956-1959
Series 2.2          Meeting Minutes, 1958
Series 2.3          Administration and Building Records, 1957-1959
Administrative Information
Acquisition:
Preferred Citation: Marshall Vernon Brown Papers, UA0003, Special Collections/Archives Department, John B. Coleman Library, Prairie View A&M University
Subject Terms:
Agriculture
African American Churches
Brown, M.V.
Brown, Marshall Vernon
Mount Corinth Baptist Church (Hempstead, Tex.)
Agricultural extension work—Texas
Prairie View A&M University
Prairie View University. Agricultural Extension Service
Inventory
SERIES I             CORRESPONDECE, 1942-1959
Correspondence, April-October 21, 1942
Correspondence, January-March 15, 1943
Correspondence, February- August 8, 1944
Correspondence, January-December 11, 1945
Correspondence, January 1-25, 1946
Correspondence, January 25-March 18, 1946
Correspondence, April 1-17, 1946
Correspondence, April 19-June 15, 1946
Correspondence, June 21-July 3, 1946
Correspondence, July 23-August 5, 1946
Correspondence, August 17-21, 1946
Correspondence, August 30-October 15, 1946
Correspondence, October 29-November 15, 1946
Correspondence, December 2-9, 1946
Correspondence, December 10-13, 1946
Correspondence, December 14-21, 1946
Correspondence, January 1-2, 1947
Correspondence, January 3-6, 1947
Correspondence, January 7-15, 1947
Correspondence, January 17-31, 1947
Correspondence, February 4-13, 1947
Correspondence, February 15-19, 1947
Correspondence, February 20-22, 1943
Correspondence, February 25-27, 1947
Correspondence, March 2-7, 1947
Correspondence, March 8-17, 1947
Correspondence, March 25-31, 1947
Correspondence, April 1-13, 1947
Correspondence, April 14-May 15, 1947
Correspondence, May 16-27, 1947
Correspondence, June 2-30, 1947
Correspondence, July 6-28, 1947
Correspondence, August 7-21, 1947
Correspondence, August 7-21, 1947
Correspondence, August 22-23, 1947
Correspondence, August 25-29, 1947,
Correspondence, September 3-12, 1947
Correspondence, September 15-October 8, 1947
Correspondence, October 9-24, 1947
Correspondence, October 27-November 10, 1947
Correspondence, November 1-21, 1947
Correspondence, November 4-December 2, 1947
Correspondence, January 29-November 22, 1948
Correspondence, January 12-July 12, 1949
Correspondence, March 16-October 27, 1950
Correspondence, March 12-November 15, 1951
Correspondence, January 3-October 15, 1952
Correspondence, November 5-December 31, 1952
Correspondence, January 2-7, 1953
Correspondence, January 8-14, 1953
Correspondence, January 17-31, 1953
Correspondence, February 4-7, 1953
Correspondence, February 14-27, 1953
Correspondence, March 7-16, 1953
Correspondence, March 23- April 2, 1953
Correspondence, April 6-21, 1953
Correspondence, April 22- 4, 1953
Correspondence, April 25-29, 1953
Correspondence, May 1-8, 1953
Correspondence, May 11-18, 1953
Correspondence, May 19-28, 1953
Correspondence, June 4-27, 1953
Correspondence, July 7, 1953
Correspondence, August 7-8, 1953
Correspondence, September 2-7, 1953
Correspondence, September 8-29, 1953
Correspondence, October 3-8, 1953
Correspondence, October 13-31, 1953
Correspondence, November 3, 1953
Correspondence, November 13-23, 1953
Correspondence, November 25-30, 1953
Correspondence, December 1-7, 1953
Correspondence, December 8-16, 1953
Correspondence, January 2-13, 1954
Correspondence, January 14, 1954
Correspondence, March 8, 1957
Correspondence, May 28, 1958
Correspondence, April 30, 1959
SERIES 2             COOPERATIVE EXTENSION WORK, 1930-1956
Forage Crop Yields College Station, 1930-1946
Negro County Home Demonstration Agents, 1940
Financial Sheet, 1942-1943
War Emergency Conference (Negro Leaders), August 10-15, 1942
Plan of Work for Agriculture, October 28, 1942-1943
Progress Report 784 (Farm Labor), 1942
Collapse of Farm Prices After World War 1, 1943
Coordinating Policies Committee (Minutes), 1943
Radio Broadcasts (Schedule), 1943
Civilian Protection and Adjustment School Prairie View, January 22-29, 1944
Program Home Demonstration Council, August 15-17, 1944
Source of Funds, 1945-1949
Summary of Expense Involved in Agent's Training, February 24-27, 1946
Famine Emergency Campaign, March 13, 1946
Profit & Loss Statement Prairie View, Texas, August 10, 1946
Programs, John Moore Training School, March 29-31, 1944
Progress Report 963 of Agriculture (Lime), 1945
Progress Report 909 pf Agricultural (each Varieties), 1944
Record of Field Trips, 1945
Farm Storage of Sorghum Grains, 1945
Program, Workshop for Negros, November 4-16, 1946
Progress Report 1027 of Agriculture (Wheat), 1946
Control of Contain Flea Hopper with DDT, 1946
Progress Report 1008 (Cutting Alfalfa Hay), 1946
Progress Report 1012 (Salt Tolerance of Turkey Poults), 1946
Progress Report 1051 (Corn Test), 1946
Progress Report 1014 (Use of Wheat), 1946
Progress Report 985 (Bush Lima Beans), 1946
Progress Report 969, Riboflavin and Protein Studies, 1945
Faculty Orientation' September 4-7, 1946
Calendar of Events, April 7, 1947
Commencement Address, May 26, 1947
Mass Communications Questionnaire, June 9-13, 1947
Payment of Meter Postage, 1947
Program, Food, Clothing, and Household Exhibit, July 17-19, 1947
Cash States & Working Funds, August 6, 1947
Summary of Expense, August 10-13, 1947
Staff Member Report, 1947
Staff Member Report, 1947
Canned Fruit & Vegetable (Marketing), 1951
Literature on Herbs, April 1947
Where does 2, 4-D Pay? (Article), 1947
Mineral Rights & Land Prices (Report 1052), 1947
Girls 4-H Club Program, 1947
Radio Information from Extension Service, 1947
Simple Parliamentary Procedure, 1947
Effectiveness of Extension Work Evaluated, 1947
The Second Year of the United Nations, 1947
Medical Facilities Available to Agents, May 14, 1947
Types of Organizations and Social Factors, March 1948
Secretary- Treasures, Team District, 1948
Swine Demonstration Report, 1948-49
Supervisory Plan of Work, 1948
Workshops View on Extension Program, 1948
Supervisory Plan of Work, 1948
Student Employment Applications, 1948
List of Agricultural Agents, July 1950
Instructional Units Change in Schools, August 1, 1950
Proceedings of Negro Farmers of Agriculture, August 27-29, 1950
History of Extension Work in Texas, November 27, 1950,
Article of Progress in Agriculture, 1950
Effects of Marketing Eggs, 1951
Texas Agriculture Guide, 1950
Practices in Strengthen Production, January 10, 1951
Improper Handling of Potatoes, January 23, 1951
Crop & Livestock Reports, Ja. 24, 1951
Review of Extension Studies, June 1951
Articles in Foreign Agriculture, February 2, 1951
Regional 4-H Camp for Young Negro Farmers, February 14, 1951
Tobacco Marketing Quotas Reviewed. February 16, 1951
Community Organization Handbook, April 2, 1951
Himebaugh Joining of the OFAR, May 4, 1951
Support of Peanut Crop, May 4, 1951
Oath of State Employees, June 21, 1951
Current Developments, July 20, 1951
Reorganizing the U.S. Dept of Agriculture, July 23, 1951
Tidelands, False-Propaganda & Misstatements Refuted, July 24, 1951
Farm to Market Project, September 24, 1951
Extension Personnel Training, October 24, 1951
Cotton Program, September 7, 1951
Cotton Defoliation Test Report, 1953
Forty-hour Week Employees, 1953
Extensions Activities & Accomplishments, 1951
Undergraduate Workers in Training, 1951
Effects of Gilmer-Aikin Laws, February 7, 1952
Program Planning Review, 1952
The Negro History Bulletin, 1952
The Best Can Be Made Better(4-H) Club, May 26, 1952
Recreational Needs of the Family program, June 12-13, 1952
Apostle of Goodwill, 1952
Training Program for Negro Workers, June 1-20, 1953
Texas Hybrid Corn Contest, August 10, 1953
Execution of Budget Changes, January 24, 1953
Extension Activities & Accomplishments, May 1953
Success of Negro Farmers, March 1953
Bermuda as a pasture grass, 1953
The use of Fuzzy (cotton machine), February 20, 1953
Cotton Insect Situation in Texas, 1953
Agriculture & Home Economics, 1953
Gregg County Community House (program), April 5-6, 1954
Rural Neighborhood Progress Contest, 1955-1956
Alumni & Ex-Students Club of Prairie View
Short Course on Growing a Spring Garden, 1945
Junior Negro Pig & Poultry Show, June 1956
Homecoming Committees, November 18, 1956
Invoice on Material Purchased for Mont Corinth Baptist Church, 1956
Checks & Balance Brought forward (Citizen State Bank), 1956
Checks (Citizens State Bank), 1956
Church Membership Card, 1956
SERIES 2.1             Financial Records and Memberships, 1956-1959
Building Funds Financial Report, 1956
Building Funds Financial Reports, August-December 1956
Rejection of Bids and Notification of Mr. Greaux, January 6th, 1957
Announcement, Women's Chorus & Mixed Ensemble Concert, March 27th, 1956
Rejection of Contractors Bids on Mt. Corinth Church, January 10th, 1957
Bond of Mt. Corinth Church Sold, April 1, 1957
Building Funds Financial Reports, 1957
Cash Receipts (16 items), 1957
Checks in account with Citizen State Bank, 1957
Building Funds Financial Report, 1958
Checks in Account with Citizen State Bank, 1958
Financial Report, Mt. Corinth Baptist Church, 1958
New members (Mt. Corinth Baptist Church), 1957
SERIES 2.2             Meeting Minutes, 1958
Minutes of Business Meeting (Mt. Corinth Baptist Church) February 14, 1958
Recommendations to Official Church Business, March 3, 1958
Meeting of Mt. Corinth Church (Discussion of Buila), March 14, 1958
Minutes of Business Meeting (Mt. Corinth Church Building) March 14, 1958
Program, Annual Social for Graduates, May 27, 1958
Installation Service (St. Peter's Church) July 10, 1958
Amount Involved in Constructing a Church Building September 5, 1958
Attorney Sallas Services (Mt. Corinth Building Program) March 24, 1958
Amount available in the Completion of New Church, September 12, 1958
Minutes of Business Meeting (Mt. Corinth Church) October 26, 1958
Minutes, Agreement to Build New Church (Mt. Corinth) October 26, 1958
Acceptance of Proposal for Construction of Church, October 26, 1958
Additions to Church Building (Mt. Corinth Church), December 28, 1958
Sympathy of Congregation to Mt. Corinth Church, December 11th, 1957
Elizabeth Durham Uniting with Tabernacle Baptist Church, December 16, 1957
SERIES 2.3             Administration and Building Records, 1957-1959
Invoice, Office Supplies Purchased, 1958-59
Accomplishments through members contribution to Church, February 10, 1959
Annual Business Meeting, Mt Corinth Baptist Church February 14, 1958
Minutes, Annual Business Meeting, Mt. Corinth Church, March 3, 1957
Joint Program with Baptist training Union March 7, 1957
Purchasing Pews for Mt. Corinth Baptist Church, March 9, 1959
Final Details of Construction of Mt. Corinth Church May 23, 1959
Building Fund Drive & Men's Day Program June 9, 1957
Collection for Mt. Corinth Baptist Church June 9, 1959
Dedicatory Services of Mt. Corinth Baptist Church June 21, 1959
Meeting of Usher Board July 23, 1059
Baptizing Pool needs repairing Mt. Corinth Church, August 20, 1959
Financial Report, Mt. Corinth Baptist Church, 1959
Individual Report Envelopes Mt. Corinth Church
Guest Speakers Introductions, Mt. Corinth Church
Announcement of BBQ Dinners (Schwarz School) June 13, 1958
Financial Report (January) 1956
Ja-De Financial Report, 1957
Checks in Account with the Citizens National Bank, 1959