Prepared by: Sheena Wilson (May 2022)

Edited & Curated by: Dr. T. DeWayne Moore (November 4, 2022)
Collection Overview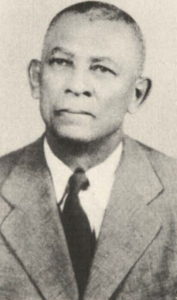 Title of Collection: UA0021 – Jehu Vinson Smith Papers
Dates: Inclusive 1946-1953; Bulk: 1946
Extent: 0.25 Linear feet (10 folders)
Abstract:
Related Collections:
Access Restrictions: Collection is open for research
Use Restrictions: Written permission must be obtained from the Special Collections/ Archives Department and all relevant rights holders before publishing quotations, excerpts, or images from any materials in this collection.
Language: English
Biographical Note: Jehu Vinson Smith was born on July 6, 1890 in Yoakum, Lavaca County, Texas. He graduated from Prairie View Normal School. In 1915, he married Lenora A. Jones, and the couple had three children—Charles Atherton, Jehu Vinson Jr., and Theodora. In 1920, he lived in Brazoria County and worked as a farmer on his own account. By 1930, he lived in McLennan County and worked as a Cooperative Extension agent in McLennan County. He served as a Cooperative Extension Service agent in Waco, McLennan County, Texas from 1946-1953. He died in Austin, Texas on September 27, 1967, and his remains were carried back to Waco Cemetery for burial.
Biography by Lindsay Boknight & Dr. DeWayne Moore
Scope & Contents: The Jehu Vinson Smith Papers consist of correspondence from 1946-1953. The majority of letters relate to labor shortages and the Agricultural Extension Service and date from 1946.
Arrangement: Records are arranged in one series chronically by date.
Series I              Correspondence, 1946-1953
Administrative Information
Preferred Citation: Jehu Vinson Smith Papers, UA0021, Special Collections/Archives Department, John B. Coleman Library, Prairie View A&M University
Subject Terms:
Agricultural extension work—Texas
Agricultural field agents
Prairie View University. Agricultural Extension Service
Correspondence
Smith, Jehu Vinson
Inventory
Series 1             Correspondence, 1946-1953
Box       Folder