Prepared by: Sheena Wilson & D'Asia Johnson (March 2022)

Edited & Curated by: Dr. T. DeWayne Moore (November 6, 2022)
Collection Overview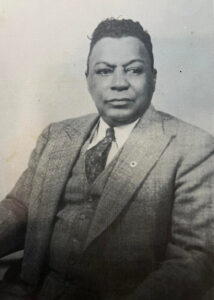 Title of Collection: UA0023 – Calvin Hoffman Waller Papers
Dates: 1914-1945
Extent: 3.5 Linear feet (7 boxes)
Abstract:
Related Collections:
Access Restrictions: This collection is open for research
Use Restrictions: Written permission must be obtained from the Special Collections/ Archives Department and all relevant rights holders before publishing quotations, excerpts or images from any materials in this collection.
Language: English
Biographical Note: Calvin Hoffman Waller was born on May 5, 1880, in Macon, Georgia. He received agricultural training at the Tuskegee Institute in Tuskegee, Alabama as well as the Mt. Hermon Academy in Mt. Hermon, Massachusetts. He also attended college in Orangeburg, South Carolina, where he served as a student instructor. In the spring of 1905, Waller became the first African American to earn a bachelor's degree in agriculture from Pennsylvania State College. He went on to teach at Lucy Laney's Haines Normal & Industrial Institute in Augusta, Georgia, where he met his future wife, Annie M. Walton. The couple married in 1909 and had one son, Calvin Walton Waller, in 1910.
In fall of 1907, Waller began teaching at Prairie View State College as a vegetable gardening instructor. In 1910, he was appointed as the head of the Agricultural Department at Prairie View. While serving in this position, he became well known as a teacher and a leader in the field of agriculture in the southwest region.
In 1920, Waller became the director of the Agricultural Extension Service for African Americans in Texas. He guided the growth of the service from a staff of sixteen people, which included eight men and eight women, to a staff of eighty–forty-five men and thirty-five women. He also managed five supervisors who oversaw the work in fifty-one counties throughout East Texas. All but one district were under his direct supervision. In 1920, he also accepted the position of chairman of the Texas Interscholastic League, a role in which he served until his death in 1941. In 1935, Waller began working for the U.S. Government in the Agricultural Adjustment Administration (AAA). In 1937, he was appointed chairman of the Federal Farm Security Administration Committee for African Americans in Texas.
Waller was largely responsible for the settlement of fourteen farm families and prospective homeowners just south of PVAMU. Aside from his contributions to the extension service, he was also well known for the promotion of athletics at Prairie View State College and in the Southwest region. On April 15, 1941, he suffered from acute indigestion in Nacogdoches, Texas and passed away. He was buried in Oak Park Cemetery in Houston, Texas.
Scope & Contents:  The Calvin Hoffman Waller Papers consist of correspondence, official publications, reports, and other media related to the Agricultural Extension Service in Texas. The publications document the programs and functions of agricultural research, education, and outreach. His correspondence is mostly related to the extension service, including communications with W.R. Banks, T.M. Campbell, Jack Shelton, and H.H. Williamson. It also contains materials about the Texas Centennial Exposition.
Arrangement: We arranged this collection chronologically by date into three series–Correspondence, Cooperative Extension Service Records, and Subject Files.
Series 1              Correspondence & Memos, 1922-1942
Series 2              Cooperative Extension Records
Series 2.1           Cooperative Extension Administrative files
Series 2.2          Cooperative Extension Reports and Statistics
Series 2.3          Home Demonstration Agents
Series 2.4          Addresses & Radio Talks
Series 2.5          Agricultural and Farm Organizations
Series 2.6          Printed Materials, 1914   – contains U.S. agricultural publication, press releases and                                        miscellaneous flyers and programs
Series 3              Subject Files
Series 3.1           4-H Clubs, 1934-1941
Series 3.2          Centennial Exposition
Series 3.3          Texas State Normal and Industrial College
Series 3.4          Community Council of Agriculture, 1938–1939
Administrative Information
Acquisition:
Preferred Citation: Calvin H. Waller Papers. UA0023. Special Collections/Archives Department, John B. Coleman Library, Prairie View A&M University
Subject Terms:
Agriculture
Agricultural extension work—Texas
Prairie View A & M University
Texas Centennial Exposition
Texas Council of Negro Farmers
County Agriculture & Home Demonstration Agents
4-H Club
Waller, Calvin Hoffman (1880-1941)
County Community Council of Agriculture
Inventory
Series 1             Correspondence & Memos, 1922-1947
This series contains letters, telegrams, post cards, and memorandums on extension services activities and agriculture in Texas during the 1920s through the early 1940s.
Box       Folder
1         1            Correspondence,
2            Correspondence, February- March 22-31,1923
3            Correspondence, April-May 1923
4            Correspondence, January 13, 1924
5            Correspondence, February 21, 1925
6            Correspondence, March – December 1932
7            Correspondence, January- June 4-30, 1933
8            Correspondence, July 3-29, 1933
9            Correspondence, August 2-31,1933
10          Correspondence, September-December 1933
11          Correspondence, January 1934
12          Correspondence, February 1934
13          Correspondence, March 1934
14          Correspondence, April 1934
15         Correspondence, May 1934
16          Correspondence, May 1-30, 1934
17         Correspondence, June 1934
18         Correspondence, July 1934
19         Correspondence, August 2-30, 1934
20          Correspondence, September 1-28, 1934
21          Correspondence, October 1-31, 1934
22          Correspondence, November 2-28, 1934
23          Correspondence, December 3-31, 1934
24          Correspondence, January 1-10, 1935
25          Correspondence, January 11-15, 1935
26          Correspondence, January 16-24, 1935
27         Correspondence, January 25-31, 1935
28          Correspondence, February 1-5, 1935
29          Correspondence, February 11-28, 1935
30          Correspondence, March 1-11, 1935
31          Correspondence, March 12-31, 1935
32          Correspondence, April 1-10, 1935
Box       Folder
2        1            Correspondence, April 11-18, 1935
2            Correspondence, April 20 –24, 1935
3            Correspondence, April 25-30, 1935
4            Correspondence, May 1-7, 1935
5            Correspondence, May 8-10, 1935
6            Correspondence, May 11-13, 1935
7            Correspondence, May 14-18, 1935
8            Correspondence, May 20-31, 1935
9            Correspondence, June 1-5, 1935
10          Correspondence, June 1-6, 1935
11          Correspondence, June 8-10, 1935
12         Correspondence, June 11 –16, 1935
13          Correspondence, June 17-22, 1935
14          Correspondence, June 25-26, 1935
15         Correspondence, June 27-29, 1935
16          Correspondence, July 1-9, 1935
17         Correspondence, July 10-14, 1935
19          Correspondence, July 15-19, 1935
20          Correspondence, July 20-30, 1935
21          Correspondence, July 24-31, 1935
22          Correspondence, August 1-15, 1935
23          Correspondence, August 12-14, 1935
24          Correspondence, August 20-27, 1935
25          Correspondence, August 28-31, 1935
26          Correspondence, September 2-6, 1935
27          Correspondence, September 7-9, 1935
28          Correspondence, September 10-11, 1935
29          Correspondence, September 12-13, 1935
30          Correspondence, September 14-17, 1935
31          Correspondence, September 18-19, 1935
33          Correspondence, September 20-26, 1935
34          Correspondence, September 27-79, 1935
35          Correspondence, September 30, 1935
36          Correspondence, October 1-6, 1935
37          Correspondence, October 7-10, 1935
38          Correspondence, October 12, 1935
39          Correspondence, October 15-16, 1935
40          Correspondence, October 17-18, 1935
41          Correspondence, October 19-23, 1935
42          Correspondence, October 24-28, 1935
43          Correspondence, October 29-31, 1935
44          Correspondence, November 1-7, 1935
45          Correspondence, November 11-22, 1935
46          Correspondence, November 23-39, 1935
47         Correspondence, December 10-27, 1935
48         Correspondence, with Rutherford Willette Banks; 1935
Box       Folder
3        1            Correspondence with Thomas Monroe Campbell, 1935
2            Correspondence with Jack Shelton, 1935- 1937
3            Correspondence with H.H. Williamson, 1935-1937
4            Correspondence, January 5-10, 1936
5            Correspondence, January 11-15, 1936
6            Correspondence, January 22- 30, 1936
7            Correspondence, February 4-7, 1936
8            Correspondence, February 10-27, 1936
9            Correspondence, July 1-19, 1936
10          Correspondence, July 1-19, 1936
11          Correspondence, July 20-31, 1936
12          Correspondence, July 1936
13          Correspondence, July 20-31, 1936
14          Correspondence, August 4-6, 1936
15          Correspondence, January 1937
16          Correspondence, February 1937
17          Correspondence, April 1937
18          Correspondence, May 1937
19          Correspondence, June 1937
20          Correspondence, July 1937
21          Correspondence, August 1937
22          Correspondence, September 1937
23          Correspondence, October 1937
24          Correspondence, November 1937
25          Correspondence, December 1937
26          Correspondence, January – December 1938
27          Correspondence, January- July 1939
28          Correspondence, August – October 1939
29          Correspondence, 1941- 1942
30          Correspondence, Memorandum [4-H Club], August 27, 1934
31          Letter, American Stock Yard Association Uniform Regulation, May 15, 1934
32          Letter, from R.H. Bush, July 10, 1934
Box       Folder
4            1            Letter from J. Moore, October 10, 1934
2            Letter from P.W. Rowe, December 2, 1934
3            Letter from H.H. Williamson, September 14, 1937
4            Letter from U.S. Farm Security Administration, October 5, 1937
5            Letter from U.S. Farm Security Administration, October 6, 1937
6            Letter from Hamilton West, December 21, 1942
7            Post Cards and Telegrams, 1933-1937
          8            Incoming and Outgoing Correspondence with Calvin Waller, Undated
9            Correspondence, Undated
10          Recollection of Extension History, 1938
11          A system of Field and Office Records for County Extension Workers, October 1920
12          Extension Service Circular, July 1930
13         Staff Conference, 1933-1934
14          Prairie View State Normal and Industrial College Schedule of Extra Projects,      1934-1935
15          Negro Extension Work for Texas, 1937
16          Circular Letter, Tuskegee Institute, 1935
17          Tenant Situation Immediately preceding the Plow-Up program, January 11, 1935
18          County Agents letter, April 12, 1935
19          Letter to State Extension Directors, October 29, 1935
20          Bulletin of the Agriculture and Mechanical College of Texas, The Agricultural                            Extension Service, 1936
21          Memo from U.S. Department of Agriculture Farm Security Administration,                         October 5, 1937
22          Circular, Preparation and Training of Extension Workers, 1938
23         Order appropriating funds for Cooperative Extension Work in Agriculture and                         Home Economics, December 12, 1938
24          The Whole Farm Demonstration, undated
25          Circular, Better farm living and food for victory, February 1943
26          Leaflet, Victory Demonstrator and Help win the war, 1942
27         Leaflet, be a victory demonstrator and help win the war
28          Information on growth of Negro Extension work, 1915-1940
29          Narrative Repot of Co-operative Extension Work, Houston County, Texas, 1923
30          Statistical Report, July 4, 1923
31          Combined Annual Report of County-Extension Workers, January-December 1940
          32          A survey of the Manner of Procedure followed in developing county programs of                                            Negro extension work in agriculture and home economics, 1933
33          Extension Service Reports of County Agents, 1933
34          Texas Negro Business and Laboring Association Report, January 25th, 1934
35          Negro Home Demonstration Agents Survey, 1934
36          Experimental Agreement Progress Report, 1937
37          Jasper County Southern Districts Narrative Reports, 1938
38          Texas Salvage Committee, The National Scrapbook Campaign, 1943
39          Texas Salvage Committee Fall 1943 FATS Salvage Program, 1945
40         Agricultural Extension Work and its relation to the improvement of Health
Series 2.3          Home Demonstration Agents
Box       Folder
5         1            Texas County Home and Farm Demonstration Agents Annual Meeting, 1934
2            Women' County Home Demonstration Council, 1930
3            Memo concerning the Whole Farm Demonstration and Whole Ranch Demonstration,                        February 18, 1937
4            Memorandum of instructions for the farmer, 1937
5            An organization manual for Home Demonstration Councils, 1936
Series 2.4          Addresses and Radio talks
Box       Folder
5            6            The Way of Citizen Training, July 14, 1937
7            Home Demonstration Radio Hour Program, May 1, 1931
8            The Good South Address, Edwin, Rogers, Embree, 1937
9            The value of the farm and home unit demonstration to the family life, December                7, 1938
10          The South and Food for freedom, Claude Wickard, September 29, 1941
11          More about roasting turkey, December 8, 1938
12         How we use farm accounts, December 7, 1938
Series 2.5 Agricultural and Farm Organizations
Box       Folder
5            13          Rural Leadership Conference, November 14, 1944
14          Annual Farmers Congress, 1935
15          Negro Farmers Agricultural Council, 1938
16          Bankhead-Jones Tenant Act, 1937
17         Outline of the Bankhead- Jones Farm Tenant Act
18          Farmers Short Course Financial statement, 1937
19          Texas Negro Farmers Council of Agriculture and by-laws
Series 2.6 Printed Materials
Box       Folder
5            20          Memorandum of Understanding between the Agriculture and Mechanical College of Texas and the United States Department of Agriculture regarding extension work, 1914
21          Vocational Education in Agriculture, 1929
22          U.S. Agricultural list of informative materials, 1935
23          U.S. Farm Credit Administration Rules and regulations, 1934
24          U.S. Treasury Department Bureau of Internal Revenue Regulations on cotton Ginning, 1934
25          U.S. Farm Credit Administration, Farm Mortgage Loans, 1934
26         U.S. Farm Credit Administration, Emergency Farm Loans, 1934
27          U.S. Agricultural Adjustment Administration, Record of Bale Tags, 1934
28          U.S. Agricultural Adjustment Administration, Instructions and Regulations                               pertaining to the Cotton Act of April 21, 1934
29          U.S. Agricultural Adjustment Administration, Application for allotment and Tax-exemption certificate, 1934
30         U.S. Agricultural Adjustment Administration, Preliminary questions and Answers covering the Bankhead Act, 1934
31         U.S. Agricultural Adjustment Administration, one year of the AAA, the record reviewed, June 3, 1934
32          U.S. Agricultural Adjustment Administration, Regulations under the Cotton Act of April 21, 1934, related to the tagging of cotton harvested and ginned prior to June 1, 1934
33          Brochure, Appraising farms for mortgage loans, U.S. Agricultural Adjustment                              Administration, 1935
34          Brochure, Federal Land Bank loans and land bank commissioners' loans U.S. Agricultural                             Adjustment Administration, 1935
              35          Brochure, Agriculture financing through the farm Credit administration. U.S.                                                  Agricultural Adjustment Administration, 1935
36         Circular, National Caning Contest, Hazel-Atlas Glass Company; 1935
37          Extension Service Farm Newsletter, February 1937
38         San Jacinto Encampment program, 1935
39         Texas Democratic Party State Convention, 1934
40         Farmers Congress News, 1935
41          The Tenth Youth, U.S. National Youth Administration, 1938
Box       Folder
5            42          U.S. National Youth Administration History, 1939
43          Circular, Agriculture and National Defense, U.S. Office of Information and Extension                                     Service, 1941
44          U.S. Department of Agriculture AAA Informational Calendar, 1941
45          Press Release, Farm Tenancy Lowest in over half a century, U.S. Department of                                              Agriculture, 1945
46          Press Release, Patsy, Graves appointed Home Economists in FHA, 1947
47         Circular, To the colored voters of Texas, Henderson, N.Q.; undated
48          Pamphlet, What the negro has done for the United State and Texas, W.E.B. Dubois
49         Farm tenancy in the United States 1880 to 1935
Series 3             Subject Files
This series contains various materials related to organizations Calvin Waller participated in, areas of Cooperative Extension work, Texas Centennial and the Texas State Normal and Industrial College
Box       Folder
6            1            Texas Centennial Celebration, 1929-1936
2            Alpha Zeta Corporation Balance Sheet, 1933
3            Houston Public Schools Directory of Colored Teachers, 1933-1934
4            Texas State Normal and Industrial College. Agricultural Extension Program, 1925-1970
5            Minister's Institute, Bishop Herald, April 1943
6            Texas Homemakers Council Constitution Laws Revision, 1935
7            Texas Interscholastic League Recommendations, April 19, 1935
              8            Texas Commission on Interracial Cooperation, 1920-1936
9            Texas Girl's Achievement Contest Forms, 1935
Subseries 3.1                  4-H Clubs, 1934-1941
Box       Folder
6        10          4-H Participation in Volunteer Civilian Defense, 1941
11          4-H Club Work, Radio talk, May 5, 1934
12          What 4-H Club has taught me, Radio talk, May 2, 1935
13          4-H Club Radiocast Program; May 4, 1935 (contains two headshots of Alvin Wilkins)
14          4-H Agricultural Club Work of Texas, Records of Crop Demonstration's, 1936
              4-H Club Achievement contest
Subseries 3.2 Texas Centennial Exposition
Box       Folder
6        15          Calendar of Centennial Celebrations, 1936
16          Texas Centennial Exposition, circular letter, 1936
           17          Texas independence map clipping map, 1936
18          Texas Centennial Exposition Livestock Exhibits & Vocational Teacher, 1936
19          Texas Centennial Exposition Exhibits Curriculum Classification, 1936
20          Guide to the Texas Centennial Exposition, 1936
21         Texas Centennial Exposition Brochures, 1936
22          Texas Centennial Exposition Historical Leaflets, 1936
23         Texas Centennial Exposition circular letter, October 13, 1936
24          Texas Centennial Exposition Dallas, Newspaper Articles, 1936
25          Progress of the Negro in Texas, 1936
26         Centennial Exposition Texas, Pictorial Parade of Texas, 1936
27          Texas Centennial Exposition, Dallas; 1936
Series 3.3 Texas State Normal and Industrial College
Box       Folder
6        28          Collectors Contributions to defray the expenses of the Prairie View State Normal and                                     Industrial College Band, 1934
29          Texas State Normal and Industrial College, Prairie View Pastor's School, 1938
30          Outstanding Negro Visitors to Prairie View State College, 1937
31          Burial Policy Benefits for Calvin Waller, 1935
32          Class C-X Policy for Calvin Waller and wife, 1935
Series 3.4 Community Council of Agriculture, 1938–1939
Box       Folder
7         1            Community Clubs in Texas, A – D, 1938
2            Community Clubs in Texas, E – I, 1938
3            Community Clubs in Texas, J – L, 1938
4            Community Clubs in Texas, M- R, 1938
5            Community Clubs in Texas, S & W, 1938
SERIES I             CORRESPONDECE & MEMOS, 1922-1947
Correspondence, February- March 22-31,1923
Correspondence, April-May 1923
Correspondence, January 13, 1924
Correspondence, February 21, 1925
Correspondence, March – December 1932
Correspondence, January- June 4-30, 1933
Correspondence, July 3-29, 1933
Correspondence, August 2-31,1933
Correspondence, September-December 1933
Correspondence, January 1934
Correspondence, February 1934
Correspondence, March 1934
Correspondence, April 1934
Correspondence, May 1-30, 1934
Correspondence, June 1934
Correspondence, July 1934
Correspondence, August 2-30, 1934
Correspondence, September 1-28, 1934
Correspondence, October 1-31, 1934
Correspondence, November 2-28, 1934
Correspondence, December 3-31, 1934
Correspondence, January 1-10, 1935
Correspondence, January 11-15, 1935
Correspondence, January 16-24, 1935
Correspondence, January 25-31, 1935
Correspondence, February 1-5, 1935
Correspondence, February 11-28, 1935
Correspondence, March 1-11, 1935
Correspondence, March 12-31, 1935
Correspondence, April 1-10, 1935
Correspondence, April 11-18, 1935
Correspondence, April 20 –24, 1935
Correspondence, April 25-30, 1935
Correspondence, May 1-7, 1935
Correspondence, May 8-10, 1935
Correspondence, May 11-13, 1935
Correspondence, May 14-18, 1935
Correspondence, May 20-31, 1935
Correspondence, June 1-5, 1935
Correspondence, June 1-6, 1935
Correspondence, June 8-10, 1935
Correspondence, June 11 –16, 1935
Correspondence, June 17-22, 1935
Correspondence, June 25-26, 1935
Correspondence, June 27-29, 1935
Correspondence, July 1-9, 1935
Correspondence, July 10-14, 1935
Correspondence, July 15-19, 1935
Correspondence, July 20-30, 1935
Correspondence, July 24-31, 1935
Correspondence, August 1-15, 1935
Correspondence, August 12-14, 1935
Correspondence, August 20-27, 1935
Correspondence, August 28-31, 1935
Correspondence, September 2-6, 1935
Correspondence, September 7-9, 1935
Correspondence, September 10-11, 1935
Correspondence, September 12-13, 1935
Correspondence, September 14-17, 1935
Correspondence, September 18-19, 1935
Correspondence, September 20-26, 1935
Correspondence, September 27-79, 1935
Correspondence, September 30, 1935
Correspondence, October 1-6, 1935
Correspondence, October 7-10, 1935
Correspondence, October 12, 1935
Correspondence, October 15-16, 1935
Correspondence, October 17-18, 1935
Correspondence, October 19-23, 1935
Correspondence, October 24-28, 1935
Correspondence, October 29-31, 1935
Correspondence, November 1-7, 1935
Correspondence, November 11-22, 1935
Correspondence, November 23-39, 1935
Correspondence, December 10-27, 1935
Correspondence, with Rutherford Willette Banks; 1935
Correspondence with Thomas Monroe Campbell, 1935
Correspondence with Jack Shelton, 1935- 1937
Correspondence with H.H. Williamson, 1935-1937
Correspondence, January 5-10, 1936
Correspondence, January 11-15, 1936
Correspondence, January 22- 30, 1936
Correspondence, February 4-7, 1936
Correspondence, February 10-27, 1936
Correspondence, July 1-19, 1936
Correspondence, July 1-19, 1936
Correspondence, July 20-31, 1936
Correspondence, July 1936
Correspondence, July 20-31, 1936
Correspondence, August 4-6, 1936
Correspondence, January 1937
Correspondence, February 1937
Correspondence, April 1937
Correspondence, June 1937
Correspondence, July 1937
Correspondence, August 1937
Correspondence, September 1937
Correspondence, October 1937
Correspondence, November 1937
Correspondence, December 1937
Correspondence, January – December 1938
Correspondence, January- July 1939
Correspondence, August – October 1939
Correspondence, 1941- 1942
Correspondence, Memorandum [4-H Club], August 27, 1934
Letter, American Stock Yard Association Uniform Regulation, May 15, 1934
Letter, from R.H. Bush, July 10, 1934
Letter from J. Moore, October 10, 1934
Letter from P.W. Rowe, December 2, 1934
Letter from H.H. Williamson, September 14, 1937
Letter from U.S. Farm Security Administration, October 5, 1937
Letter from U.S. Farm Security Administration, October 6, 1937
Letter from Hamilton West, December 21, 1942
Post Cards and Telegrams, 1933-1937
Incoming and Outgoing Correspondence with Calvin Waller, Undated
Recollection of Extension History, 1938
A system of Field and Office Records for County Extension Workers, October 1920
Extension Service Circular, July 1930
Staff Conference, 1933-1934
Prairie View State Normal and Industrial College Schedule of Extra Projects, 1934-1935
Negro Extension Work for Texas, 1937
Circular Letter, Tuskegee Institute, 1935
Tenant Situation Immediately preceding the Plow-Up program, January 11, 1935
County Agents letter, April 12, 1935
Letter to State Extension Directors, October 29, 1935
Bulletin of the Agriculture and Mechanical College of Texas, The Agricultural Extension Service, 1936
Memo from U.S. Department of Agriculture Farm Security Administration, October 5, 1937
Circular, Preparation and Training of Extension Workers, 1938
Order appropriating funds for Cooperative Extension Work in Agriculture and Home Economics, December 12, 1938
The Whole Farm Demonstration, undated
Circular, Better farm living and food for victory, February 1943
Leaflet, Victory Demonstrator and Help win the war, 1942
Leaflet, be a victory demonstrator and help win the war
Information on growth of Negro Extension work, 1915-1940
Narrative Repot of Co-operative Extension Work, Houston County, Texas, 1923
Statistical Report, July 4, 1923
Combined Annual Report of County-Extension Workers, January-December 1940
A survey of the Manner of Procedure followed in developing county programs of Negro extension work in agriculture and home economics, 1933
Extension Service Reports of County Agents, 1933
Texas Negro Business and Laboring Association Report, January 25th, 1934
Negro Home Demonstration Agents Survey, 1934
Experimental Agreement Progress Report, 1937
Jasper County Southern Districts Narrative Reports, 1938
Texas Salvage Committee, The National Scrapbook Campaign, 1943
Texas Salvage Committee Fall 1943 FATS Salvage Program, 1945
Agricultural Extension Work and its relation to the improvement of Health
Series 2.3          Home Demonstration Agents
Texas County Home and Farm Demonstration Agents Annual Meeting, 1934
Women' County Home Demonstration Council, 1930
Memo concerning the Whole Farm Demonstration and Whole Ranch Demonstration, February 18, 1937
Memorandum of instructions for the farmer, 1937
An organization manual for Home Demonstration Councils, 1936
Series 2.4          Addresses and Radio talks 
The Way of Citizen Training, July 14, 1937
Home Demonstration Radio Hour Program, May 1, 1931
The Good South Address, Edwin, Rogers, Embree, 1937
The value of the farm and home unit demonstration to the family life, December 7, 1938
The South and Food for freedom, Claude Wickard, September 29, 1941
More about roasting turkey, December 8, 1938
How we use farm accounts, December 7, 1938
SERIES 2.5            Agricultural and Farm Organizations
Rural Leadership Conference, November 14, 1944
Annual Farmers Congress, 1935
Negro Farmers Agricultural Council, 1938
Bankhead-Jones Tenant Act, 1937
Outline of the Bankhead- Jones Farm Tenant Act
Farmers Short Course Financial statement, 1937
Texas Negro Farmers Council of Agriculture and by-laws
SERIES 2.6            Printed Materials
Memorandum of Understanding between the Agriculture and Mechanical College of Texas and the United States Department of Agriculture regarding extension work, 1914
Vocational Education in Agriculture, 1929
U.S. Agricultural list of informative materials, 1935
U.S. Farm Credit Administration Rules and regulations, 1934
U.S. Treasury Department Bureau of Internal Revenue Regulations on cotton Ginning, 1934
U.S. Farm Credit Administration, Farm Mortgage Loans, 1934
U.S. Farm Credit Administration, Emergency Farm Loans, 1934
U.S. Agricultural Adjustment Administration, Record of Bale Tags, 1934
U.S. Agricultural Adjustment Administration, Instructions and Regulations pertaining to the Cotton Act of April 21, 1934
U.S. Agricultural Adjustment Administration, Application for allotment and Tax-exemption certificate, 1934
U.S. Agricultural Adjustment Administration, Preliminary questions and Answers covering the Bankhead Act, 1934
U.S. Agricultural Adjustment Administration, one year of the AAA, the record reviewed, June 3, 1934
U.S. Agricultural Adjustment Administration, Regulations under the Cotton Act of April 21, 1934, related to the tagging of cotton harvested and ginned prior to June 1, 1934
Brochure, Appraising farms for mortgage loans, U.S. Agricultural Adjustment Administration, 1935
Brochure, Federal Land Bank loans and land bank commissioners' loans U.S. Agricultural Adjustment Administration, 1935
Brochure, Agriculture financing through the farm Credit administration. U.S. Agricultural Adjustment Administration, 1935
Circular, National Caning Contest, Hazel-Atlas Glass Company; 1935
Extension Service Farm Newsletter, February 1937
San Jacinto Encampment program, 1935
Texas Democratic Party State Convention, 1934
Farmers Congress News, 1935
The Tenth Youth, U.S. National Youth Administration, 1938
U.S. National Youth Administration History, 1939
Circular, Agriculture and National Defense, U.S. Office of Information and Extension Service, 1941
U.S. Department of Agriculture AAA Informational Calendar, 1941
Press Release, Farm Tenancy Lowest in over half a century, U.S. Department of Agriculture, 1945
Press Release, Patsy, Graves appointed Home Economists in FHA, 1947
Circular, To the colored voters of Texas, Henderson, N.Q.; undated
Pamphlet, What the negro has done for the United State and Texas, W.E.B. Dubois
Farm tenancy in the United States 1880 to 1935
Series 3          Subject Files
Texas Centennial Celebration, 1929-1936
Alpha Zeta Corporation Balance Sheet, 1933
Houston Public Schools Directory of Colored Teachers, 1933-1934
Texas State Normal and Industrial College. Agricultural Extension Program, 1925-1970
Minister's Institute, Bishop Herald, April 1943
Texas Homemakers Council Constitution Laws Revision, 1935
Texas Interscholastic League Recommendations, April 19, 1935
Texas Commission on Interracial Cooperation, 1920-1936
Texas Girl's Achievement Contest Forms, 1935
SubSeries 3.1          4-H Clubs, 1934-1941 
4-H Participation in Volunteer Civilian Defense, 1941
4-H Club Work, Radio talk, May 5, 1934
What 4-H Club has taught me, Radio talk, May 2, 1935
4-H Club Radiocast Program; May 4, 1935 (contains two headshots of Alvin Wilkins)
4-H Agricultural Club Work of Texas, Records of Crop Demonstration's, 1936 4-H Club Achievement contest
SubSERIES 3.2            Texas Centennial Exposition
Calendar of Centennial Celebrations, 1936
Texas Centennial Exposition, circular letter, 1936
Texas independence map clipping map, 1936
Texas Centennial Exposition Livestock Exhibits & Vocational Teacher, 1936
Texas Centennial Exposition Exhibits Curriculum Classification, 1936
Guide to the Texas Centennial Exposition, 1936
Texas Centennial Exposition Brochures, 1936
Texas Centennial Exposition Historical Leaflets, 1936
Texas Centennial Exposition circular letter, October 13, 1936
Texas Centennial Exposition Dallas, Newspaper Articles, 1936
Progress of the Negro in Texas, 1936
Centennial Exposition Texas, Pictorial Parade of Texas, 1936
Texas Centennial Exposition, Dallas; 1936
SERIES 3.3            Texas State Normal and Industrial College
Collectors Contributions to defray the expenses of the Prairie View State Normal and Industrial College Band, 1934
Texas State Normal and Industrial College, Prairie View Pastor's School, 1938
Outstanding Negro Visitors to Prairie View State College, 1937
Burial Policy Benefits for Calvin Waller, 1935
Class C-X Policy for Calvin Waller and wife, 1935
SERIES 3.4            Community Council of Agriculture, 1938-1939
Community Clubs in Texas, A – D, 1938
Community Clubs in Texas, E – I, 1938
Community Clubs in Texas, J – L, 1938
Community Clubs in Texas, M- R, 1938
Community Clubs in Texas, S & W, 1938