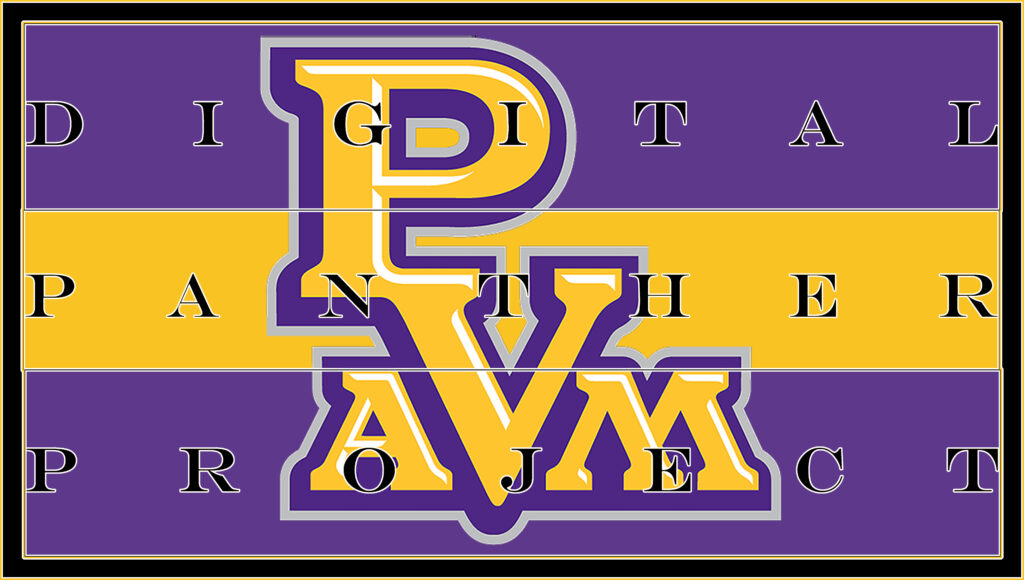 In preparation for the 250th anniversary of America's founding in 1776, the National Endowment for the Humanities (NEH) launched "A More Perfect Union," a major new initiative that coincides with the 150th anniversary of the founding of Prairie View A&M University (PVAMU). In February 1876, African American state representative William H. Holland introduced an act to "establish an agricultural and mechanical school for colored youths" in Texas. Earning him the title, "Father of Prairie View," he monitored every committee's scrutiny and inspection of the bill until it became law—much like the Constitutional architects who appeased anti-federalist critics and assured ratification of the US Constitution. Just as Holland sought to secure funding for the education of the formerly enslaved and their descendants, the Digital PV Panther Project seeks to preserve African American history and create "A More Perfect Union."
The Digital PV Panther Project aims to eliminate historical silences and prevent the erasure of African American history in East Texas by promoting research in our rich, historic collections in the archives on the fifth floor of John B. Coleman Library at PVAMU. It hopes to remind Americans that not only do the basic goals of life, liberty, and the pursuit of happiness endure over time, but so do the challenges of redressing the legacy of slavery and segregation and strengthening our democratic institutions. By processing, digitizing, and broadly disseminating the archival collections at PVAMU, the Digital PV Panther Project will help present and future generations reach a consensus about the past and reflect on our quest for a more just, inclusive, and sustainable society.
PVAMU is a Historically Black College/University established towards the end of Reconstruction (1876) in Waller County, Texas, which the legislature in Texas carved out of Austin, Grimes, and Harris Counties in 1873. African Americans dominated politics in Waller County from its creation until 1886, when white supremacists used extralegal violence and disfranchisement to attain power in local politics.
Despite the 1965 Voting Rights Act's passage and the 1979 Supreme Court ruling in Symm v. United States, which stated that local officials could not infringe upon the voting rights of college students, white supremacists continue to employ voter suppression tactics to retain power in Waller County. In 2013, students at PVAMU managed to secured a polling place in the Willie A. Tempton Memorial Student Center (MSC), but local officials removed it in 2018. Only recently, in January 2022, did the MSC once again become a site for early voting.
One imperative of the Digital PV Panther Project, therefore, is the creation of the PV Student Voting Rights Collection, which will document the history of student disfranchisement and voter suppression in Waller County from Reconstruction to the 1979 Symm v. United States ruling, the 26th Amendment, and recent voting rights activism. As archival assistants, students will compile newspaper articles, oral histories, and other media as well as showcase their research and educate the public by blogging and building digital exhibitions on our website.
The Digital PV Panther Project will also provide a platform to connect the rich history of PVAMU to the Black Lives Matter Movement. On July 13, 2015, 28-year-old African American Sandra Bland was found hanged in a Waller County jail cell–three days after being arrested during a traffic stop on University Drive in Prairie View. The protests and vigils that followed her death proved a catalyzing force in the Movement for Black Lives. Even though University Drive was later renamed Sandra Bland Parkway, the Prairie View Panther student newspaper, which allowed students to make their voices heard for over a hundred years, discontinued publication following the death of Sandra Bland. Thus, the website will feature a blog for project participants and volunteers to discuss their work and the ways it connects to contemporary social justice issues.
PVAMU faculty, administrators, staff, and students need to recognize the importance of investing in, celebrating, and elevating the HBCU experience through archival preservation. By collaborating to achieve a common goal, we can re-build the sense of community lost during the pandemic. The Digital PV Panther Project will engage students in conversations about history and how it can be preserved, and our digital projects will encourage students to reflect not only on what they are learning, but also why they are doing the work and what skills they are building in the process. Navigating archives is at the center of what historians do, and digital history can teach students how archival collections are started, developed, categorized, and organized. Promoting the collections at PVAMU will give students a sense of purpose and better understanding of historic preservation. Perhaps the most important digital history project to date at PVAMU, the Digital Commons contains master's theses, student newspapers, and other official university publications. Scholarly Communication Librarian Henry Koshy maintains the project in our digital content management system, bepress.